Syria unrest continues as Arab League monitors fan out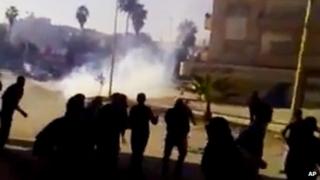 Arab League monitors overseeing compliance with a peace plan have been fanning out to cover various parts of Syria amid continuing anti-government violence.
Activists reported at least 10 deaths on Wednesday in the cities of Homs, Hama and elsewhere.
The monitors visited Homs for a second time, to be met by angry residents.
The team's head said he had so far seen "nothing frightening", dismaying some activists and Western observers.
Meanwhile, Syria released 755 people detained during the nine-month-old uprising against President Bashar al-Assad's rule. State TV said their "hands were not stained with blood".
'No benefit'
The monitors are spreading out to cover Hama, the north-western province of Idlib, and the southern province of Deraa, where the uprising began.
Activists on Wednesday reported deaths in all of those flashpoint areas, saying that almost 40 people had now died in the two days since the monitors arrived.
The Syrian Observatory for Human Rights said army defectors had killed at least four soldiers in Deraa, while civilians were killed in the Baba Amr district of Homs and in Hama and Aleppo.
Unverified video footage from Hama purported to show security forces firing bullets and tear gas at protesters who were chanting, "Where are the Arab monitors?"
More unverified footage was said to show residents of Homs shouting at monitors, and the observers rushing for cover amid blasts.
One activist is heard saying: "When you were in Homs yesterday, 15 people died. We're not benefiting from your presence."
At one point activists refused to meet the monitors because they would not give up their Syrian army escort.
However, the monitors did appear to be getting to meet residents to hear their stories, unrestricted by military escorts.
Casualty figures and other information are hard to verify from Syria as most foreign media are banned from reporting.
The head of the observer mission, Sudanese Gen Mustafa al-Dabi, told Reuters news agency on Wednesday that the situation "seemed reassuring so far" and that he had seen "nothing frightening", although he appealed for more time for the team.
His comments dismayed activists and some Western observers.
Ausama Monajed, of the opposition Syrian National Council, said: "This mission has absolutely no mandate, no authority, no teeth. The regime does not feel obliged to even bring down the number of casualties a day."
French foreign ministry spokesman Bernard Valero said: "The brevity of [the team's] stay [in Homs] did not allow them to appreciate the reality of the prevailing situation."
However, US state department spokesman Mark Toner said: "We need to let this mission get up and running. Let them do their job and then let them give their judgement."
The mission at present numbers 66 and is expected to rise to between 200 and 300.
In announcing the prisoner release, state TV said those affected "did not have Syrian blood on their hands". It did not mention where the protesters were arrested or detained.
The UN says more than 14,000 people are in detention and 5,000 have been killed as a result of the state's crackdown.
Human rights activists believe as many as 40,000 people are being held.