US considers Yemen President Saleh's travel request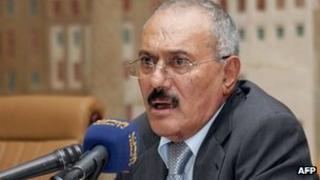 American authorities are considering a request from Yemeni President Ali Abdullah Saleh to travel to the US.
On Saturday, Mr Saleh said he would be leaving for the US in order to calm the unrest in his country.
Mr Saleh said he was not going to seek medical help, but a senior US official said he would only be admitted "for legitimate medical treatment".
Mr Saleh signed a peace deal last month to end a political crisis which has left hundreds dead.
Under the deal, he handed over powers to his deputy and promised to leave office by February in return for immunity.
But Mr Saleh's actions since signing the deal have been viewed as contradictory by many.
He said on Saturday he would leave for the US "in the coming days... to get out of sight... to calm the atmosphere for the unity government to hold the presidential election" in February.
But he has also said he would return later as "an opposition figure".
A senior US official said on Monday that Mr Saleh would be admitted if he still needs serious medical treatment for the injuries he sustained during an assassination attempt in June.
However, this would not necessarily mean him leaving the country for good.
Many opposition activists were jubilant when he left the country for Saudi Arabia in June to seek medical help, only to see him return in September.
Thousands of activists are still regularly holding protests demanding Mr Saleh and his closest aides be put on trial.
On Sunday, nine protesters in the southern city of Taiz were killed by forces loyal to Mr Saleh.