Iraq and UN sign Iranian 'Camp Ashraf' exile deal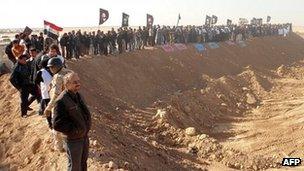 Iraq and the United Nations have agreed to re-settle more than 3,000 Iranian exiles who have been based at a refugee camp near Baghdad since the 1980s.
The residents of Camp Ashraf were part of the People's Mujahideen Organisation of Iran, which fought alongside Iraqi soldiers during the Iran-Iraq war.
The deal has been welcomed by the US, which handed responsibility for the camp to Iraq in 2009.
Iraq's Shia-led government has repeatedly vowed to close Camp Ashraf.
But under the terms of the deal signed with the UN late on Sunday, camp residents would be moved to a temporary location where their refugee status would then be determined by the UN. The UN says this is a necessary first step before exiles are finally re-settled outside Iraq.
"The UNHCR will immediately deploy a team at the new location to proceed with the verification and adjudication of the claims for refugee status it had received," the statement said.
The statement said that re-location would be voluntary. It is unclear when the process would begin and if the dissidents based at the camp would agree to move.
One camp representative quoted by the Associated Press news agency said that they were still waiting to see the agreement before commenting.
"Ashraf residents have repeatedly emphasised that they would in no way accept forcible relocation," Shahin Gobadi is quoted as saying.
US Secretary of State Hillary Clinton welcomed the deal saying it "represents significant progress on this issue".
The PMOI, also known as Mojahedin-e Khalq, was welcomed in the 1980s by then-President Saddam Hussein, who was fighting a war against Iran. He funded and armed the group, which fought alongside Iraqi troops.
But Iraq's new leaders have improved relations with neighbours Iran since the overthrow of Saddam Hussein and have sought to close down the camp. In April a raid on the camp by Iraq's army left at least 34 dead, according to the UN.
Iraqi officials said clashes were limited and the army entered the camp to confront stone-throwers, but camp residents called it a full-scale military assault.
On Monday, shortly after the deal was announced, Iraqi military sources said several rockets hit the camp. Residents at the camp accused groups loyal to Iran of launching the missiles.