Syria violence flares as Arab League observers are due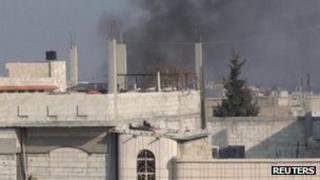 More Arab League observers are due to arrive in Syria as renewed violence hits the central city of Homs.
At least 13 people died in gunfire and shelling on Monday, the Syrian Observatory for Human Rights says.
Syria's main opposition group has urged observers, arriving as part of a deal to try to end the violence gripping the country, to visit the volatile city.
Damascus says it is fighting armed gangs. The clampdown has killed more than 5,000 people, says the UN.
The latest bloodshed is reported to have taken place in the Baba Amr district of Homs, which is reportedly besieged by government forces.
A number of people have been killed in the town by mortar shelling and machine gun fire over the last few days, activists say. It is expected to be one of the first destinations for the Arab observer mission.
The BBC's Jim Muir in Beirut says that Homs may well prove to be a test case for the mission in terms of ascertaining whether they truly have unrestricted access and whether there is any peace for them to monitor.
Protests against the government of President Bashar al-Assad first erupted in March.
Casualty figures are hard to verify as most foreign media are banned from reporting in Syria.
Graphic footage
About 50 Arab League monitors are expected to arrive within the next few hours - several days after a nine-member advance team landed in Damascus.
They will split up into smaller groups and, according to the agreement, should be free to go wherever they want to see what is happening.
The observer mission will eventually have up to 200 members, and it plans to meet both government officials and the opposition.
On Sunday, the opposition Syrian National Council (SNC), the main umbrella group of Assad opponents, urged monitors to go to Homs without delay.
"Since early this morning, the [Homs] neighbourhood of Baba Amr has been under a tight siege and the threat of military invasion by an estimated 4,000 soldiers," it said, adding that an unknown number of people had been killed and at least 120 injured.
It also "demands that the Arab League observers go to Homs immediately, specifically to the besieged neighbourhoods, to fulfil their stated mission".
Graphic footage purporting to show the aftermath of heavy shelling in Baba Amr has been posted on the internet. It shows the bleeding corpses of four young men and a woman screaming for help from the international community, our correspondent says.
On Sunday, human rights and opposition activists said troops had killed at least 10 people, including five in the eastern province of Deir al-Zour.
Two days earlier, two suicide car bombings in Damascus killed 44 people and left more than 150 injured, Syrian officials said. They blamed al-Qaeda, but the opposition suggested security forces were behind the blasts.
With a solid security presence, Damascus had largely escaped the violence and protests that have flared in central and northern provinces, although there have been protests in suburbs.
Syrian Foreign Minister Walid Muallem has said he expects the monitors to back the government's claim that armed gangs were behind the continuing violence.