Baghdad blasts: Hashemi accuses government over attacks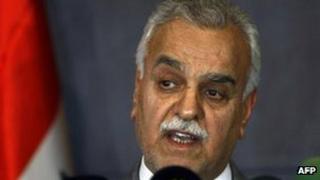 Iraq's Vice-President Tariq al-Hashemi has said Iraq's government was behind Thursday's series of bombings that killed nearly 70 people in Baghdad.
The attack could not have happened on such a scale without government help, he told BBC Persian television.
Mr Hashemi, a Sunni Muslim, fled to Iraq's Kurdish region after PM Nouri al-Maliki, a Shia, issued an arrest warrant against him on terror charges.
The crisis has sparked fears of renewed sectarian conflict in Iraq.
Mr Hashemi said only members of Iraq's security apparatus were capable of co-ordinating such large-scale attacks.
"This style of terrorist attack, it's well-beyond even al-Qaeda to do it. What has been done is well-organised, the people who plant all these explosives, they went freely, without any obstacles, regardless of many checkpoints that we do have, and simultaneously all these car bombs and explosives went off in one time," he said.
"Those who were behind all these explosions and incidents [were a] part in the security of the government. I'm sure about that."
Unity doubt
Thursday's attacks were the worst to hit Iraq in months. At least 68 people were killed and nearly 200 injured as car and roadside bombs went off in 16 separate locations, mostly Shia areas of the city.
The violence came days after the US withdrew the last of its combat troops from Iraq on Monday, ending nearly nine years of military engagement.
Mr Hashemi said the US should bear responsibility for the way Iraq was now being governed.
Earlier, he said that Mr Maliki should be focusing on security, not "chasing patriotic politicians".
Mr Hashemi has been accused of orchestrating terror attacks on officials and security forces, a charge he denies. In response, the main Sunni political bloc, al-Iraqiyya, is blockading parliament and the cabinet, putting the future of the fragile year-old unity government in doubt.
Mr Hashemi has previously compared the prime minister's behaviour and style of government to that of deposed former leader Saddam Hussein, telling US Foreign Policy magazine Mr Maliki was "very much adamant about running this country in a very bad and tough way".