Thousands protest in Egypt against military tactics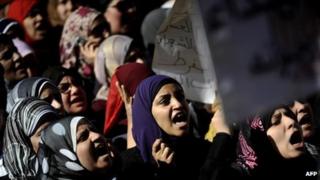 Thousands of Egyptians have attended a rally at Tahrir Square in the capital, Cairo, to denounce the authorities' violent tactics against protesters.
At least 17 people have been killed in the past week in clashes between troops and demonstrators demanding the ruling military council give up power.
Images of women being stripped and beaten have provoked particular anger.
On Tuesday, the generals agreed to halt the violent suppression of dissent and apologised for the treatment of women.
The violence came as Egyptians voted in run-off contests for the second round of parliamentary elections - the first since President Hosni Mubarak stepped down in February following an 18-day popular uprising.
'Regaining honour'
Friday's protest in Tahrir Square, called "Regaining honour and defending the revolution", was supported by more than two dozen groups.
But the Muslim Brotherhood, an Islamist movement whose party has emerged as the biggest winner in the elections, did not give its backing.
Demonstrators said they had been moved to attend by one image in particular - that of several soldiers beating a veiled woman and dragging her along the ground so that her underwear was exposed.
"Anyone who saw her and saw her pain would come to Tahrir," one person in the crowd, Omar Adel, told the Reuters news agency. "Those who did this should be tried. We can't bear this humiliation and abuse."
The woman was beaten when soldiers and police guarding the parliament and cabinet buildings tried to clear a sit-in demanding that the military council transfer power to civilian authorities immediately.
During the clashes, both protesters and security forces personnel threw stones, glass and fire-bombs at each other. Buildings were also set alight.