Yemen president 'to seek medical treatment abroad'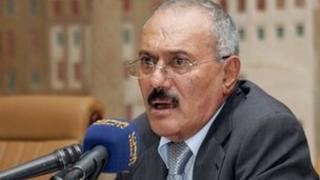 Yemen's president is expected to leave the country for more medical treatment for injuries suffered in an attack on his palace in June, a UN envoy says.
Veteran leader Ali Abdullah Saleh earlier spent three months recuperating in Saudi Arabia.
Mr Saleh signed a peace deal last month after a government crackdown on months of protests left hundreds dead.
Under the deal he agreed to transfer power to his deputy, and formally to stand down in February.
Observers say there had been concern that Mr Saleh would try to avoid leaving office on time, but his medical condition may now force his departure.
'Fraught with difficulties'
"My understanding is that President Saleh still requires serious medical treatment and medical treatment that he will require outside of Yemen," UN special envoy to Yemen Jamal Benomar told reporters after briefing the UN Security Council.
"Efforts are being made for arrangements to be concluded for him to get this treatment," he said.
President Saleh is due to give up his presidential title at the next elections under an agreement brokered by the US and Gulf Arab states.
But Mr Benomar stressed this was "a first step in a long road fraught with difficulties" for Yemen.
He said the new government needed to re-establish control over large parts of the country now under the control of al-Qaeda.
And he praised leaders for ordering the military back to barracks and removing checkpoints.
But many protesters are still angry that the transfer deal has not gone far enough and that it gives Mr Saleh and his family immunity from prosecution.