Libya's captured Saif al-Islam Gaddafi 'has not seen lawyer'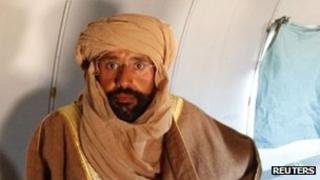 Saif al-Islam Gaddafi, the son of the deposed Libyan leader Col Muammar Gaddafi, has not seen a lawyer since his arrest, a human rights campaigner has told the BBC.
However, Saif al-Islam had no complaints of maltreatment, according to Fred Abrahams of Human Rights Watch.
Mr Abrahams called on Libyan authorities to give him access to a lawyer "as soon as possible".
Saif al-Islam was arrested last month while apparently trying to flee Libya.
He is the most high-profile captive from the previous regime.
Mr Abrahams said Libyan authorities had allowed him to spend half an hour alone with Saif al-Islam in the town of Zintan, where he is being held.
Saif al-Islam's physical condition was "good" and he had an operation around three weeks ago to treat a hand injury, Mr Abrahams said.
Libyan prosecutors said that Saif al-Islam would have access to a lawyer as soon as he was transferred to a secure facility in the capital Tripoli, he added.
Saif al-Islam complained to Mr Abrahams of what he described as his "isolation", saying that while officials had been to visit him, he had not been allowed to see anyone of his own choosing.
Mr Abrahams said he had the impression from the meeting that Saif al-Islam "doesn't fully understand that he is no longer one of the most powerful people in the country".
Saif al-Islam is wanted by the International Criminal Court (ICC) on charges of crimes against humanity.
It is expected that he will be tried within Libya under terms laid out by the ruling National Transitional Council.
Libyan Prime Minister Abdurrahim al-Keib has promised Saif al-Islam will receive a fair trial.