Syria unrest: Jabal al-Zawiya 'massacres'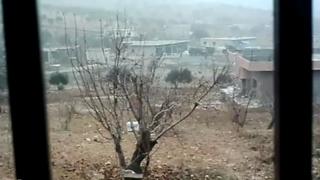 Human rights and opposition activists say some 200 people were killed by Syrian security forces in the hills and villages of the north-western province of Idlib on 19 and 20 December 2011.
Most of those killed in the Jabal al-Zawiya area, 40km (25 miles) south-west of the provincial capital Idlib, were reportedly army defectors.
In what activists say was one of the deadliest massacres of the uprising against President Bashar al-Assad, up to 70 soldiers were mown down by machine-guns on 19 December after hundreds fled their positions between the villages of Kafrouaid and Kansafra.
Survivors said they had been attempting to reach Turkey, not far away to the north-west, where other defectors have formed the Free Syrian Army (FSA), a rebel group that has mounted increasingly deadly cross-border raids.
The state news agency, Sana, said security forces in the area had killed at least one "terrorist" and wounded several others.
On 20 December, government forces backed by tanks reportedly launched an operation to hunt down the defectors who managed to escape.
Activists said there was fierce fighting around Kafrouaid for much of the day, as troops picked off the defectors one by one. They then reportedly fired on civilians trying to flee to nearby woods out of fear of detention.
The London-based Syrian Observatory for Human Rights said at least 111 had been killed in an "organised massacre". The Local Co-ordination Committees, another activist group, put the second day's death toll at 100.
But a Lebanese human rights activist, Wissam Tarif of the campaign group Avaaz, told the BBC that 269 had died in Idlib on 20 December alone - 163 of them defectors, but also 97 government troops and nine civilians.
Events in Syria are hard to verify because the authorities have banned most independent reporting, but Mr Tarif said his information came from a variety of trusted sources, including defectors, civilians in the area and medics at the National Hospital in nearby Maarat al-Numan, who had counted the soldiers' bodies.
Mr Tarif said more and more Syrian soldiers were refusing to kill their own people, and defecting in huge numbers.
"We are seeing in different areas of Syria a resistance taking place," he said. "The Arab League has called on the Syrian army to stop obeying its political leadership and therefore now we see a high number of defections in the army.
"In Jabal al-Zawiya alone, we are talking about more than 3,000 defectors. There is a number circulating of more than 10,000 soldiers in all [of Syria]," he added.
On 21 December, the main opposition coalition, the Syrian National Council (SNC), said 250 people had been killed on Monday and Tuesday in "bloody massacres" in Idlib, and called on the UN to set up safe havens.
'Screaming for his life'
A month later, four men from Kafrouaid who managed to flee to Turkey, told the Times that 124 people had entered the narrow Abu Dumayah valley, to the west of the village, to hide from government troops. After six hours under attack, only 13 were still alive, they said.
"There were [Free Syrian Army fighters] in the area and there was shooting in the hills, but there were no rebels with us," said one of the survivors, Ahmad Saleh al-Yusuf. "We were local civilians, including old men and teenage boys. We were activists and protesters, but we weren't armed rebels and no-one had a gun."
Mr Yusuf said that tanks and armoured vehicles had lined up on the road overlooking the valley at about 10:00 on 20 December and fired shells, machine-guns and anti-aircraft weapons at them.
"It came from every direction," he added. "Not a minute passed without firing. All you could hear was explosions and gunfire... People were getting killed all along the valley."
"I saw a young shepherd boy of about 13, who had been there with his flock, screaming for his life. He died too. He wasn't the only teenager killed. There were a lot of youngsters there."
At about 13:30, a group of 20 survivors led by Kafrouaid's imam, Ahmad Daher, tried to plead with the troops.
"They were calling out to the soldiers, who emerged and gestured to them to raise their hands," Mr Yusuf told the Times.
The men's hands were then tied behind their backs and they were forced to kneel on the ground, he added.
"They shot each of them in the back. One soldier bayoneted the imam in the throat as he knelt before them. They shot him afterwards," Mr Yusuf said, adding that at 16:00, the troops and tanks moved back to Kafrouaid.
Video footage posted online, purportedly from the village, appears to show rows of dead men in civilian clothes lying on a floor.