Bahrain blogger Zainab al-Khawaja freed on bail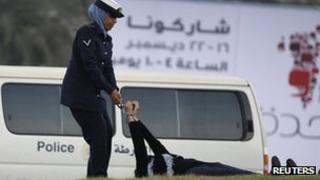 Bahrain police have released Zainab al-Khawaja, a blogger and human rights activist, after five days in custody.
Ms Khawaja, the daughter of a jailed opposition leader, was arrested on Thursday during an anti-government demonstration.
Images of her arrest, in which she was dragged to a police vehicle after refusing to leave a sit-in, had received widespread coverage.
She was released on Tuesday night pending trial.
After her release she tweeted that the last few days had been "tough".
The 28-year-old is the mother of a young child. Her father, Abdulhadi al-Khawaja, her husband and other male relatives have been imprisoned since April.
In February and March an uprising of Bahrain's majority Shia population against the Sunni rulers began, inspired by the Arab Spring. The government crackdown left at least 24 people dead, though some accounts put the toll as high as 40.
An inquiry by an international panel of human rights experts found police had used excessive force. King Hamad has put together a committee to implement the recommendations of the panel's report.