Biden urges Iraq leaders to resolve sectarian disputes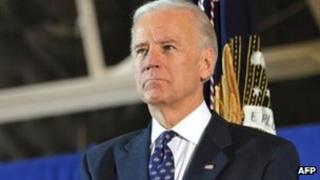 US Vice-President Joe Biden has urged Iraqi leaders to work together to avert renewed sectarian strife.
The White House said Mr Biden had expressed his concerns in a phone call to Shia Prime Minister Nouri Maliki.
It comes after an arrest warrant was issued for Iraq's Sunni Vice-President, Tariq al-Hashemi, on terror charges.
That sparked fears that Iraq's fragile year-old unity government could fall apart, shortly after the last US soldiers left the country.
Fighting between Sunnis and Shia left thousands dead in the tit-for-tat attacks of 2006-2007.
The entire al-Iraqiyya Sunni political bloc is boycotting parliament and the cabinet in protest at the warrant, while the Sunni Deputy Prime Minister Saleh al-Mutlak has said Iraq is facing "chaos and disaster".
Mr Hashemi, who is now in Iraq's semi-autonomous northern Kurdistan Region, has denied any wrongdoing.
'I blame Maliki'
In a statement, the White House said Mr Biden had spoken separately with Mr Maliki and parliamentary Speaker Osama al-Nujaifi to discuss the political situation and to stress Washington's "commitment to a long-term strategic partnership with Iraq".
He told them of the importance of an inclusive government and of "acting in a manner consistent with the rule of law and Iraq's constitution".
"The vice-president also stressed the urgent need for the prime minister and the leaders of the other major blocs to meet and work through their differences together," the statement said.
The last US troops left Iraq on Sunday, eight years after the invasion that toppled Saddam Hussein.
The next day, Iraq's interior ministry announced that an arrest warrant had been issued for Mr Hashemi. It said members of his security detail had confessed to carrying out terror attacks.
State-run television broadcast what were said to be the men's confessions.
Mr Hashemi has said the accusations are "fabricated". He has accused Mr Maliki of being behind a plot to discredit him and blow apart recent attempts at national reconciliation.
"All the efforts that have been exerted to reach national reconciliation and to unite Iraq are now gone. So yes, I blame Maliki," he said.
In response to the warrant, the main Sunni Arab political bloc al-Iraqiyya - which was already boycotting parliament in protest at Mr Maliki's alleged authoritarian manner - said its ministers would suspend participation in cabinet.
Mr Mutlak said said the Sunni minority was "being oppressed" by Mr Maliki's Shia-dominated government and his "unwise running of the country", and has called for a confidence vote in parliament.
He said Iraq risked descending into renewed sectarian conflict.
Iraq's power-sharing government was formed a year ago after nine-months of negotiations which followed inconclusive election results.
But the BBC's Middle East correspondent Jim Muir say the government has rarely pulled together, and a gulf of mistrust remains between the two sides.
Kurdistan President Masoud Barzani, who brokered the deal, has warned it is now in danger of collapsing.