Iraq: New dawn for departing US troops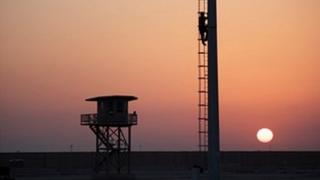 The end of Operation New Dawn - the US military mission in Iraq - did indeed involve a sun rising slowly in the Middle East.
When the last convoy of US troops began the 280km (173 mile) drive from Camp Adder in Iraq to Camp Virginia in Kuwait it was just after midnight - just another dark desert night.
But when the 1st Cavalry Division's 3rd Brigade rolled across the border between the two countries, at a junction called Khabari crossing, the sky was turning pink - and they had made history.
Their arrival officially marked the end of the Iraq war, which began nearly nine years ago with the ousting of Iraqi leader Saddam Hussein.
As the last remaining troops at Camp Adder prepared to make the trip, most were predictably upbeat and spoke of making it home in time for Christmas with their families.
But these final few were also noticeably tired, and many spoke quietly about this being the end of their second or third tour.
"I think in the big picture what we did here in Iraq was the right thing to do," a mid-ranking commander told me.
"We know that without Saddam, and with the promise of a real democracy, the Iraqi people are in a better place in general now," he said.
"But can I say with my whole heart that I think it was worth thousands of American lives? No, not with total conviction."
He said after three tours, he had seen "drastic positive change" in the country but regardless of the level of stability, it was very much time for the US to "call it a day".
Smiles and waves
Another commander with the last convoy was candid about the future of Iraq: "We have trained the Iraqi forces, spent lots of time training them - and now they have to use that training."
He spoke while watching his soldiers throw around a football in the last hour of daylight before departing Camp Adder.
"We all know there might still be some rocky times in Iraq, but I think they can stand on their own and handle themselves," he said.
One private told me: "I am exactly where I want to be, and am damn proud of all the soldiers that have been here before me.
"The United States military isn't perfect, but history will show we did everything we could in Iraq to make it a better place."
As truck after truck hit Kuwaiti soil, there were smiles and waves from the troops onboard.
It was another hour of driving for them to reach Camp Virginia, one of several US bases in Kuwait.
And by then excitement was growing - for a hot breakfast, a shower and some sleep.
Walking with a lieutenant as he went to turn in his ammunition, he smiled and told me: "I think being a part of history like this is great.
"I mean, I was about 10 years old when this all started, and now I'm a part of something really big and something I can tell my kids about one day," he said.
"I'll always be proud of having served in Iraq.
"But right now, I just want to get home and buy my girlfriend a nice Christmas present and hug my Mum."