Syria unrest: Mass rallies after Friday prayers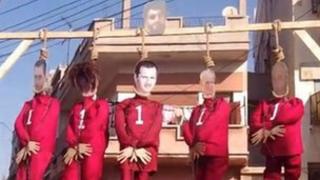 Syrian security forces have reportedly opened fire on anti-government protesters after hundreds of thousands took to the streets across the country.
Activists said at least six people had been killed in the restive central city of Homs, where 200,000 joined marches following Friday prayers.
There were also clashes in Hama, Deraa and Deir al-Zour.
Earlier, Russia circulated its own draft Security Council resolution aimed at ending the violence in Syria.
The move surprised Western countries, which have spent months trying to get a resolution approved, but have faced a veto by Russia and China.
European and US diplomats welcomed the Russian draft, but complained that it did not go far enough in attributing blame for human rights abuses to the government of Syrian President Bashar al-Assad.
The French permanent representative to the UN, Gerard Araud, said Russia had felt the pressure of the international community.
Earlier this week, the UN said the Syrian authorities had killed more than 5,000 people since pro-democracy demonstrations began in March.
'Enough deadlines'
The London-based Syrian Observatory for Human Rights said more than 200,000 demonstrators came out in several districts of Homs on Friday, demanding that the Arab League stop extending a deadline is has given Damascus to end the crackdown and agree to an observer mission.
"The Arab League is killing us - enough deadlines," said one slogan.
A video posted online from the Khaldiya district showed mock gallows where five effigies were hanged, including one of Mr Assad.
"The people want to execute the president," the 10,000-strong crowd chanted. Security personnel watched from a distance.
Videos also showed demonstrators in the capital, Damascus, as well as in Hama, Deraa and Deir al-Zour and Idlib.
The Syrian Observatory for Human Rights said at least six people had been shot dead by security forces in Homs - four in the Deir Baalbah district and two in al-Duraib.
Another person died after being shot overnight in the town of al-Hirrak, not far from Deraa, where the uprising began nine months ago, it added. The al-Lujat area of Deraa is reportedly being bombarded by the army.
The Local Co-ordination Committees (LCC), an activist group which organises and documents the protests, said 17 civilians had been killed on Friday, including two women and four children. At least nine had died in Homs, three each in Deraa in Hama, and two in the suburbs of Damascus, its website reported.
On Thursday, the LCC said 13 people were killed, including four each in Homs and Deraa, two in Idlib, and one each in Damascus, Hassakah and Hama.
Army defectors also killed 27 soldiers and security personnel in Deraa province, the Syrian Observatory for Human Rights said.
The violence came not long after Human Rights Watch accused dozens of Syrian military commanders and officials of ordering soldiers to shoot to kill in order to stop anti-government protests.
A report named 74 senior government officials and military officers as being directly involved in crimes against humanity. The findings are based on testimony from more than 60 Syrian army defectors.
Human Rights Watch said responsibility went right up to Mr Assad, who last week denied that orders had been issued to kill or be brutal.
The government blames the violence on "armed terrorist gangs".