Bahrain blogger Zainab al-Khawaja 'detained in protest'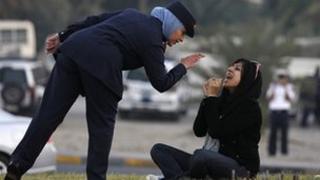 Police in Bahrain have detained prominent blogger and rights activist Zainab al-Khawaja during a protest near the capital Manama, reports say.
Security forces fired tear gas and stun grenades to disperse hundreds of anti-government protesters trying to block a main road, according to witnesses.
The Gulf kingdom's Shia Muslim majority have staged regular protests in the past 10 months demanding more rights from the Sunni-dominated monarchy.
King Hamad has pledged reforms.
The latest unrest comes during a visit to Bahrain by the US state department's top human rights envoy, Michael Posner.
He welcomed moves by King Hamad to address rights abuses, but urged him to do more.
Ms Khawaja, a prominent human rights activist and the daughter of a senior opposition figure, had refused to leave a sit-in at a roundabout on the Budaiya highway west of Manama after other protesters had been dispersed, witnesses said.
She was handcuffed and taken away by police along with at least one other woman protester, reports said.
Earlier she had tweeted: "Sitting in a roundabout on Budaiya street, shouting down down Hamad. Until now riot police don't seem to know what to do. A few girls have joined me now."
So far there has been no official confirmation of her detention.
Late on Thursday a local resident told the BBC that helicopters were overhead and the smell of tear gas was still hanging over the neighbourhood.
Heavily guarded
Budaiya road connects a string of largely Shia villages west of Manama and leads to a junction south of Manama's Pearl Roundabout, which was the focal point for earlier protests.
Correspondents say the heavily guarded square holds great symbolic value for the opposition movement and protesters have repeatedly tried to retake it.
Earlier, Mr Posner, who heads the US Bureau of Democracy, Human Rights and Labor, praised King Hamad for taking steps to implement reforms.
He said Washington remained concerned about the government's "excessive use of force, including tear gas, in response to ongoing street protests".
Bahrain, considered a strategically important Gulf nation, hosts the US Navy's 5th Fleet.
After weeks of protests in February and March inspired by the Arab Spring, Bahrain's government eventually cracked down leaving at least 24 people dead, though some accounts put the death toll as high as 40.
An inquiry by an international panel of human rights experts found police had used excessive force and King Hamad has put together a committee to implement the recommendations of the panel's report.