Vandals try to start fire in West Bank mosque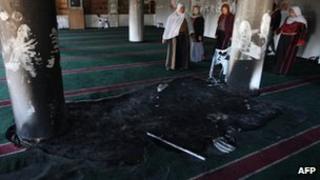 Vandals have started a fire in a mosque in a West Bank village, in the second such attack in two days.
Officials in Burka, east of Ramallah, said that carpets and chairs were burnt in the local mosque and Hebrew graffiti saying "war" was scrawled on the wall.
On Tuesday, a fire was started in a 12th Century mosque in Jerusalem.
The incidents are being blamed on Jewish settlers angry at what they see as Israeli government attempts to restrict settlement building.
"This is a cowardly, despicable act by settlers," the head of Burka council, Abdelqadr Sumrean, told the BBC. "They want us to leave our land but we will never do that."
No-one saw the perpetrators of the attack in Burqa, which took place in the middle of the night. However, it is located within a kilometre of Migron, a settlement outpost which is due to be demolished early next year under an order from Israel's Supreme Court.
'Price tag'
The village has previously seen so-called "price tag" violence. This is a policy of attacks on Palestinians or their property carried out by Jewish extremists in repose to any action taken by the Israeli government or security forces against settlement expansion.
There has been a rise in such attacks across the West Bank and in Israel in recent weeks.
The words "price tag" were sprayed on the walls of the disused, Nebi Akasha, mosque in central Jerusalem after attempts were made to set it alight early on Tuesday.
The attack on the historic site, where fighters from Saladin's army are believed to be buried, was condemned by the mayor of Jerusalem, Nir Birkat.
"We must show zero tolerance toward violence in any shape or form and continue to maintain coexistence in the city," he said in a statement.
Attacks by settlers have also targeted Israeli soldiers, based in the West Bank to protect Jewish settlers but responsible for carrying out demolition orders.
Overnight on Wednesday, troops demolished two structures in another settlement outpost near the northern West Bank city of Nablus.
Graffiti was then sprayed on what is believed to have been an IDF post at Tapuach Junction, near Nablus. One arrest was made.
On Wednesday, following an assault on an Israeli military base, Prime Minister Benjamin Netanyahu approved measures to clamp down on extremists.
Under the new regulations, the army will now have the authority to detain offenders, as well as the police, and they will be tried in military courts rather than in civilian courts.