Syria 'authorised forces to shoot to kill' in crackdown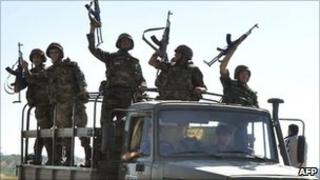 Syrian soldiers said their commanders told them to stop anti-government protests "by all means necessary", Human Rights Watch has said.
The group spoke to dozens of defectors who said they had understood this as authorisation to use lethal force.
Anti-government protests have continued despite President Bashar al-Assad's attempts to stifle them.
The UN believes more than 5,000 people have died in seven months of unrest, which Syria blames on armed gangs.
In the latest violence, activists say 27 members of the security forces have been killed by army deserters in the southern province of Deraa.
The London based Syrian Observatory for Human Rights said the deaths occurred during dawn clashes on Thursday.
Twenty-five people were said by activist groups to have been killed on Wednesday during fighting near the city of Hama.
International journalists face severe restrictions on their movements in Syria, and it is hard to verify reports.
'Answer for crimes'
Human Rights Watch (HRW), a New York-based organisation, said about half of the 60 defectors from the Syrian army whom they interviewed had been given direct orders to open fire at protesters or bystanders.
The report, entitled By All Means Necessary!, also documents cases of torture, including soldiers using electric cattle prods, restricting detainees to confined spaces and carrying out summary executions.
"Defectors gave us names, ranks, and positions of those who gave the orders to shoot and kill, and each and every official named in this report, up to the very highest levels of the Syrian government, should answer for their crimes against the Syrian people," said HRW's Anna Neistat, one of the report's authors.
"The Security Council should ensure accountability by referring Syria to the International Criminal Court."
The report includes the case of "Amjad," a soldier deployed to Deraa who said that he received direct orders from his commander to fire on protesters on 25 April.
"He said: 'Use heavy shooting. Nobody will ask you to explain'. Normally we are supposed to save bullets, but this time he said: 'Use as many bullets as you want'."
In a recent interview, Mr Assad said he had given no orders for violence to be used against protesters and that he did not control the security forces.
He has also denied that there was ever a command "to kill or to be brutal" though he has admitted that "mistakes" have been made.
But HRW says that under international law, commanders are responsible for crimes committed by their subordinates if they knew or should have known about violations and failed to investigate or stop them.
"It is reasonable to conclude, at minimum, that Syria's senior military and civilian leadership knew about them.
"The ongoing killings, arrests, repression, and general denials of responsibility by the Syrian government also make clear that officials have failed to take any meaningful action to address these abuses," the report reads.
The United Nations Human Rights Council accused the Syrian authorities of crimes against humanity and systematic human rights violations, in a report at the end of November.
The top UN human rights official, Navi Pillay, has also said Syria should be referred to the International Criminal Court.