Egypt court cuts blogger Maikel Nabil's jail term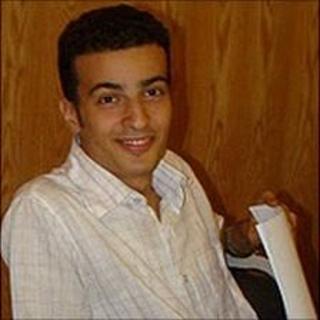 An Egyptian military court has reduced the jail term of a hunger-striking blogger imprisoned on charges of criticising the military.
Maikel Nabil was sentenced to two years - down from three - and fined E£200 (£22; $33).
But his family said he would escalate his hunger strike, which he has been on since August, and which they say endangers his life.
Nabil's case has drawn local and international attention.
He was the first blogger to be tried in military courts since the military assumed power following the toppling of Hosni Mubarak in February.
The rights group Human Rights Watch says he is among almost 12,000 civilians have been brought before military tribunals since January - more than the total number of cases during Mr Mubarak's 30-year rule.
But he is a self-declared supporter of Israel - a deeply unpopular view in Egypt.
'Only water'
Nabil "will escalate his hunger strike", his brother Mark told AFP news agency after the court confirmed the two-year sentence.
"He was drinking juice and milk, but now will only drink water," he said.
Rights groups backing his case have previously warned the 26-year-old is suffering serious health problems as a result of his hunger strike.
Heba Morayef, a Cairo-based researcher for Human Rights Watch, told AFP she was disappointed with the new sentence but added Nabil was likely to serve only a further year in jail due to time already served.
Nabil says he was offered release on condition he apologised to military rulers.
"But because of his principle - he didn't recognise the legitimacy of military trials - it has turned into a battle of wills," Ms Morayef said.
Nabil was sentenced in April after penning a blog post titled "The army and the people were never one hand", in which he criticised the army's role in the revolution, saying the revolution had got "rid of the dictator but not of the dictatorship".
The formal charges reportedly comprised insulting the military, publishing false news and disturbing public security.
The military council has denied he is a prisoner of conscience, with a military official reportedly calling his blog post a "clear transgression of all boundaries of insult and libel".