Vandals attack disused Jerusalem mosque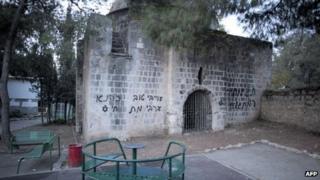 Vandals have set fire to a disused 12th Century mosque in the centre of Jerusalem and left graffiti insulting the Prophet Muhammad on its walls.
Jerusalem's mayor denounced the attack, which caused no structural damage.
The incident is being linked to a wave of attacks by Jewish settlers and right-wing extremists angered by what they see as Israeli government attempts to restrict settlement building.
Early on Tuesday, protesters broke into an Israeli army base in the West Bank.
They set tyres alight and damaged vehicles inside the Ephraim Brigade's headquarters near Qalqilya, officials said. The brigade's commander was also slightly injured when his vehicle was pelted with stones.
Prime Minister Benjamin Netanyahu called the violence "intolerable" and told security forces to "to act aggressively" against those responsible.
'Price-tag' attacks
The Nebi Akasha mosque is located in the middle of an ultra-Orthodox part of Jerusalem.
Israeli media reports say it has not been used as a place of worship since Israel's war of independence in 1948, though it was recently renovated and turned into a municipal storage facility.
Early on Wednesday morning, the Jerusalem Fire and Rescue Services received a call saying there was a fire in the building.
When the blaze had been extinguished, firefighters inspected the building and found graffiti defaming Islam and Arabs.
The words "price tag" were also sprayed on the walls - a reference to attacks which settlers and extremists say they are carrying out as acts of revenge for any Israeli government attempt to control settlement construction.
About 500,000 Jews live in more than 100 settlements built since Israel's 1967 occupation of the West Bank and East Jerusalem. The settlements are considered illegal under international law, though Israel disputes this.
Jerusalem mayor Nir Barkat condemned Wednesday's attack.
"We must show zero tolerance toward violence in any shape or form and continue to maintain coexistence in the city," he said in a statement.
The Israeli police said they had opened an investigation. Israel's internal security service, Shin Bet, is also said to be looking at the crime.
Other acts of vandalism were reported in two Palestinian towns in the West Bank overnight. The Israeli military said that two Palestinian cars were set on fire, one south of Nablus and the other near Qalqilya. Graffiti was also found.
The BBC's Kevin Connolly in Jerusalem says the mosque attack will be a further source of anxiety for the Israeli government, which is concerned by signs of an upsurge in activity among right-wing militants.
Opinion in the Arab world will be angered by the desecration of the mosque, but Israelis are more worried by confrontations between supporters of the settlers and the soldiers who are based in the West Bank to protect them, our correspondent adds.
After one recent incident, a senior officer said he had never seen such hatred directed at soldiers by Jewish demonstrators, who called one of his colleagues a "Nazi".
The Israeli government is said to be considering strengthening anti-terrorism laws in response to the violence.