Syria unrest: Deadly clashes hit restive north-west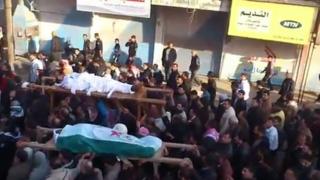 Security forces have killed at least 28 people in Syria, activists say, hours after the UN put the death toll from the nine-month-old uprising at 5,000.
In the restive north-western province of Idlib, troops reportedly opened fire on a funeral procession following an attack by soldiers who had defected.
Activists said people were also killed in the cities of Hama, Homs and Deraa.
Earlier, the UN human rights chief recommended that Syria be referred to the International Criminal Court.
Navi Pillay told the UN Security Council that the "the widespread and systematic nature of the killings, the detentions, and the acts of torture" perpetrated by the Syrian authorities constituted crimes against humanity.
"Inaction by the international community will embolden Syrian authorities, and ensure perpetrators go unpunished," she added.
Ms Pillay said she believed more than 5,000 people had been killed and at least 14,000 detained since anti-government protests began in March.
Syria's envoy to the UN rejected Ms Pillay's findings, saying she was not objective and had allowed herself to be used to mislead public opinion.
Russia's foreign minister accused the West of an "immoral" stance on Syria, saying it should also condemn the opposition, whom he accused of trying to provoke a "humanitarian catastrophe" to get foreign help.
Russia joined China in October to block Western efforts to pass a Security Council resolution condemning the crackdown in Syria.
Blogger charged
The deadliest incident on Tuesday took place shortly after dawn in two villages near the Turkish border, Rami Abdul Rahman of the UK-based Syrian Observatory for Human Rights told the BBC.
Security forces entered Maaret Masreen and Kfar Yahmoul and shot two civilians dead, he said. Residents responded by closing a main road to the troops, who then opened fire at random, killing 11 people.
Later in the morning, army defectors retaliated by attacking a security convoy in the town of Bab al-Hawa, killing seven troops, Mr Abdul Rahman said.
Hours later, security forces opened fired on funeral processions for those killed in Maaret Masreen and Kfar Yahmoul, killing at least another two people, he added.
"These are intentional killings by the terrorist gangs of the regime," Abu Mohammed, a resident of the town of Maaret al-Numan, told the Associated Press. "We will not abandon our demands.
"We want the downfall of the regime and we want the president to be put on trial, because he is behind the killings that the Syrian people are being subjected to," he added.
Mr Abdul Rahman also said three other people had been killed in the provincial capital, Idlib, and two in the central province of Homs.
The Local Co-ordination Committees, an activist group that documents and organises protests, said at least 35 people had been killed by security forces, including 21 in Idlib province, eight in Hama, four in Homs and two in Deraa.
Syrian state media reported that border guards had intercepted 15 gunmen trying to enter from Turkey and killed two in a firefight. They also said "terrorists" had ambushed troops later in the day and killed a senior officer in Idlib.
The Syrian government has said more than 1,100 members of the army, police and security services have been killed. It blames "armed terrorist gangs" acting out a foreign conspiracy to divide and undermine the country.
It is difficult to confirm the exact casualty toll in Syria because there are no independent monitors on the ground and international journalists have been denied access to the country.
Meanwhile, a Syrian media rights organisation says that a Syrian-American blogger who was arrested earlier this month has been charged with membership of an organisation trying to change the social and economic status of the country.
The Syrian Centre for Media and Free Expression says that Razan Ghazzawi has also been charged with inciting racism and sectarianism.
Ms Ghazzawi, who runs a blog from Damascus since 2009 in which she has called for democratic reform, was arrested earlier this month as she tried to cross into Jordan. She denies the charges.