Russia accuses West of 'immoral' stance on Syria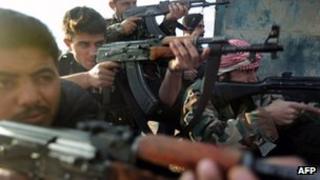 Russia's foreign minister has accused the West of an "immoral" stance on Syria, saying it should condemn the opposition as well as security forces.
Sergei Lavrov said opposition groups were trying to provoke a "humanitarian catastrophe" to get foreign help.
The comments came after UN human rights chief Navi Pillay told the Security Council Syria should be referred to the International Criminal Court over its crackdown on the nine-month uprising.
She said 5,000 people had been killed.
In October, Russia and China vetoed a Security Council resolution condemning Syria. The draft, introduced by France and the UK, was supported by other Western countries.
On Tuesday Mr Lavrov defended an alternative text drafted by Russia and China which urges both sides in the conflict to refrain from violence.
He described as "immoral" the position of "those who refuse to exert pressure on the armed, extremist, part of the opposition and at the same time accuse us of blocking the work of the Security Council".
Mr Lavrov said opposition forces in Homs had attacked hospitals and schools.
He added: "To me it is clear that the purpose is to provoke a humanitarian catastrophe, to get a pretext to demand external interference into this conflict."
Russia has accused Western countries of using the UN to try to force regime change in Syria.
'Crimes against humanity'
Meanwhile, clashes between Syrian security forces and army defectors appear to be intensifying in the north of the country.
Syrian activists on Tuesday said deserters had killed seven soldiers in an ambush in Idlib province.
The UK-based Syrian Observatory for Human Rights told the BBC the attack had been in revenge for the killing of 11 civilians by government forces earlier in the day.
In New York, UN Human Rights Commissioner Navi Pillay told a closed session of the Security Council that 300 children had been among those killed since the start of the uprising in March.
She also said 14,000 people were believed to have been arrested, and 12,400 had fled to neighbouring countries.
"It is based on the evidence and the widespread and systematic nature of the killings, the detentions and the acts of torture that I felt that these acts constituted crimes against humanity and I recommended that there should be a referral to the International Criminal Court," Ms Pillay said on Monday.
She said her estimate of more than 5,000 deaths did not include security forces. The Syrian government has said more than 1,000 of its police and troops have been killed.
The Syrian ambassador at the UN, Bashar Jaafari, said Ms Pillay had "allowed herself to be misused in misleading the public opinion by providing information based on allegations collected from 233 defectors".
It is difficult to confirm the casualty toll in Syria because there are no independent monitors on the ground and international journalists have been denied access to the country.