Hezbollah names 'CIA spies with informers at Starbucks'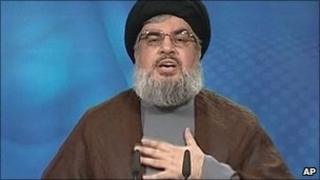 The Shia Islamist group Hezbollah has exposed purported CIA officers working undercover in Lebanon.
Hezbollah broadcast what it said were the names of the American spies on a Lebanese television station, al-Manar, on Friday night.
Video animations were used to show alleged meetings between CIA officers and informers at Starbucks and Pizza Hut.
A CIA spokeswoman said the agency would not comment on "spurious claims".
Al-Manar said the CIA had 10 officers in Lebanon, all using diplomatic cover to run intelligence networks in the country, which is Israel's northern neighbour.
Espionage war
"The agency does not, as a rule, address spurious claims from terrorist groups," CIA spokeswoman Jennifer Youngblood told the Associated Press news agency.
Hezbollah has probably already shared images of the alleged CIA officers with its closest ally, Iran, according to unnamed "former officials" quoted by the Associated Press.
It is the latest episode in the espionage war between Hezbollah and the CIA.
Hezbollah leader Sheikh Hassan Nasrallah said earlier this year that two of his group's members had confessed to spying for the American intelligence agency.
The US, which lists Hezbollah as a terrorist organisation, denied those claims, too.
The CIA reportedly reviewed its potential vulnerabilities in Lebanon after scores of alleged Israeli spies were arrested there in 2009.
In 1984, the CIA station chief in Beirut was kidnapped by Hezbollah and killed.
Iran said last month it had arrested a dozen CIA spies who were allegedly targeting that country's military and nuclear programme.
In the last year, two CIA station chiefs' names have been leaked in the Pakistani media, prompting at least one to be recalled from the capital, Islamabad.