Israel closes walkway to Jerusalem holy site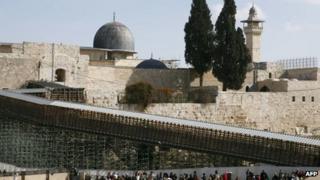 Israel has closed a wooden walkway to Jerusalem's holiest site for safety reasons, sparking Palestinian anger.
Police and heritage officials said the bridge to the Moughrabi Gate, leading to the Haram al-Sharif or Temple Mount, posed a fire risk and might collapse.
It was put up as a temporary measure after a stone ramp was damaged in 2004.
The Palestinian Authority said the closure was another "attack" on the peace process. Hamas said it amounted to a declaration of religious war.
Any construction work at the Temple Mount or Haram al-Sharif (Noble Sanctuary) compound in East Jerusalem - the holiest site in Judaism and Islam's third holiest shrine - can be politically explosive.
In 2007, work to dismantle the walkway and rebuild the stone ramp led to protests in the Muslim world, while in 1996 work to open a tunnel alongside the compound sparked clashes in which 80 people died.
'Serious step'
Jerusalem City Council had ordered that the footbridge to the Moughrabi Gate be torn down last month, but Israeli Prime Minister Benjamin Netanyahu instructed councillors to postpone it due to the sensitivity of the issue and warnings from Egypt that it would cause the protests there.
Then last week, the council's chief engineer, Shlomo Eshkol, announced that he intended to order the "immediate closure of the structure" and to "completely prohibit its use". On Sunday night, the walkway was closed.
Council officials said the footbridge posed a severe security threat because it was highly flammable and in danger of collapse. They warned that if a fire broke out, it could spread to the Haram al-Sharif/Temple Mount compound.
The walkway has been used by non-Muslims to gain access to the al-Aqsa Mosque and Dome of the Rock. Muslims use other entrances.
Israeli media report that King Abdullah of Jordan, the custodian of the Muslim holy sites in Jerusalem, warned Israeli President Shimon Peres last week to "refrain from any step that will damage the character of Jerusalem or sites that are sacred to Islam or Christianity".
The Mufti of Jerusalem, Sheikh Mohammed Hussein, also said that the Islamic Waqf council, which administers the disputed compound, opposed the demolition of the existing structure.
Following the footbridge's closure, a spokesman for Palestinian Authority President Mahmoud Abbas, Nabil Abu Rudeina, said it represented another "attack" on efforts to revive the Israeli-Palestinian peace process.
"These practices create a negative atmosphere in the entire region that could plunge the area into turmoil and tension," he warned.
A spokesman for the Islamist militant group Hamas, which governs the Gaza Strip, described the move as a "serious step that shows the Zionist scheme of aggression against the al-Aqsa mosque".
"This is a violent act that amounts to a declaration of religious war on the Muslim holy places in Jerusalem," Fawzi Barhoum told the AFP news agency, calling for "Arab and Muslim mobilisation to stop this".