Syrian protests trigger new deadly clashes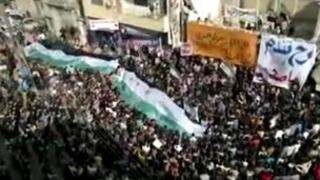 At least 24 people have been killed in renewed anti-government protests across Syria, activists say.
Eleven of the deaths were in and around the city of Homs, while five were in the suburbs of Damascus, the Syrian Observatory for Human Rights said.
Another activist group, the Local Co-ordination Committees (LCC), put Friday's death toll at 35.
The UN estimates more than 4,000 people have died in the uprising against President Bashar al-Assad since March.
A number of pro-government demonstrations have also been reported across the country, including in the capital Damascus.
Demonstrators regularly take to the streets following Friday prayers.
The UK-based Syrian Observatory for Human Rights said two of those killed in the central city of Homs were boys, aged 10 and 12. Homs has emerged as the epicentre of the uprising.
"The earth was shaking," one Homs resident told the Associated Press, saying explosions and gunfire erupted in the early morning. "Armoured personnel carriers drove through the streets and opened fire randomly with heavy machine-guns."
The Observatory also said that four people had died in the nearby city of Hama, two in Deraa, where the uprising began eight months ago, and two in the north-western province of Idlib.
The LCC said 18 people had been killed in Homs, five in Idlib, four in Hama, two in Deraa and six in the suburbs of Damascus, including three in Kafarbatnah.
Activists in Deraa said telephone and internet lines had been cut.
Syria severely restricts access to foreign media so reports of unrest cannot be verified.
Turkey warning
The violence comes a day after a major oil pipeline serving the Homs region was blown up.
Activists accused Mr Assad's government of deliberately destroying the pipeline, while state-run media blamed "an armed terrorist group".
Opposition groups accuse the government of stoking up fears of religious extremism and terrorism to rally support behind Mr Assad.
In a rare interview on Wednesday, Mr Assad told ABC News he had never ordered the military to kill or be brutal in its crackdown on protests, saying only a "crazy person" would kill his own people.
Mr Assad also challenged the "false allegations" on which much of the media - and the UN Human Rights Commission - had based their conclusions about what was happening in Syria.
On Friday, UN Secretary General Ban Ki-moon defended the reliability of its information on the death toll and alleged human rights abuses.
"All the credible information is that more than 4,000 people have been killed by the government forces. The High Commissioner for Human Rights has made it already clear through all the various sources, very credible sources," he told reporters in Kenya.
Meanwhile, Turkey's foreign minister warned that it would act to protect itself if the Syrian government crackdown threatened regional security and unleashed a tide of refugees on its southern border.
"Turkey has no desire to interfere in anyone's internal affairs. But if a risk to regional security arises, then we do not have the luxury of standing by and looking on," Ahmet Davutoglu said.
"If a government that is fighting its own people and creating refugees, is putting not only their own security at risk but also that of Turkey, then we have a responsibility and the authority to say to them: 'Enough!'"
The Turkish government also moved to suspend a 2008 free-trade agreement with Syria, which will lead to the imposition of taxes of up to 30% on some Syrian goods.
Turkey and the Arab League have joined the US and EU in imposing economic sanctions on Syria to press Mr Assad to halt the crackdown.