Palestinian killed in Gaza air strike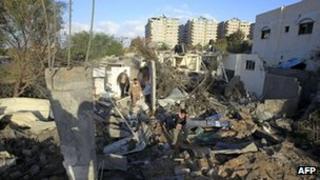 One civilian has been killed and at least 20 others have been hurt after an Israeli air strike on a militant base in Gaza City, Palestinian medics say.
Missiles reportedly struck a Hamas training facility overnight, sending shrapnel flying into nearby houses.
Hamas Prime Minister Ismail Haniya accused Israel of an "unjustified and serious escalation" in the Gaza Strip.
Israel's military expressed "regret", but blamed Hamas for operating "while embedded within a civilian population".
A statement said the civilians were not harmed directly by the missiles, but by the explosion of rockets stored at the Hamas facility. Hamas, it added, had used the civilians "human shields to protect their actions".
'Arbitrary killings'
A health official in Gaza City, Adham Abu Salmia, told the Associated Press that Friday's air strike had set several houses on fire and sprayed several with shrapnel.
The destruction of one house left a 42-year-old man dead and injured seven members of his family, including his father, wife and five of his children, he said.
Mr Haniya, the head of the Hamas-controlled government in Gaza, accused Israel of carrying out a predetermined policy of assassination and arbitrary killings.
"We are pursuing intensive contacts with several Arab and international parties, and we stress the necessity of this aggression being stopped immediately," he told reporters.
On Thursday, Gaza-based militants fired rockets into southern Israel in response to another air strike that killed two militants.
The men died when missiles hit a car in which they were travelling on a crowded street in Gaza City.
The Israeli military said the men had been planning an attack on Israeli civilians and soldiers along Israel's border with Egypt's Sinai peninsula.
Palestinian sources say one of those killed was a member of the Fatah movement's military wing; the other was his nephew, a Hamas member.
The BBC's Wyre Davies in Jerusalem says much of southern Israel is on high alert.
At least one major road near the port of Eilat has been closed, and according to Israeli intelligence sources a significant cross-border attack in the area is expected anytime soon, our correspondent adds.