Yemen: New unity government created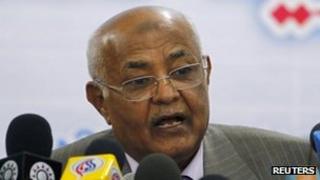 Yemen's vice-president has issued a decree creating a national unity government to take over from that of President Ali Abdullah Saleh.
Mr Saleh transferred his powers to his vice-president last month under a deal to end months of deadly unrest.
The creation of the national unity government was part of the agreement.
The new 35-member cabinet will be headed by independent politician Mohammed Basindwa, Yemen's state news agency Saba said.
The cabinet posts will be equally divided between Mr Saleh's governing General Congress Party and the opposition.
Members of the Congress Party will head the ministries of defence, foreign affairs and oil, while opposition politicians will lead the ministries of interior, finance and information, AP reports.
The cabinet also includes two women, one from each side.
Mr Basindwa is a former member of the Congress party and held several cabinet positions, including foreign and information minister before leaving about 10 years ago to become an independent opposition figure.
Hundreds of people have died this year in protests against the rule of Mr Saleh, who has governed for more than three decades.
Early elections are scheduled to take place on 21 February 2012.