Egypt's cabinet sworn in and interior minister named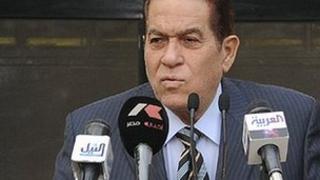 Egypt's new cabinet has been sworn in with the key post of interior minister going to Cairo ex-police chief Mohammed Ibrahim Yusuf.
The ruling army council also handed presidential powers to interim PM Kamal al-Ganzouri, but kept control of military affairs, officials said.
Mr Ganzouri's appointment followed violent protests last month.
In the wake of the unrest, Amnesty International has called on the US to stop the export of tear gas to Egypt.
Amnesty accused Egyptian authorities of using excessive and often lethal force against protesters.
Sensitive role
Mr Ganzouri named the majority of his new cabinet on Tuesday.
However, correspondents say he had difficulty selecting a new interior minister to oversee the police.
Mr Yusuf is the former chief of police for the district of Giza in the capital Cairo.
The post is sensitive because police were accused of brutality during recent protests against the military. More than 40 people died in the trouble.
Many Egyptians also complain that crime has soared since the ousting of former President Hosni Mubarak in February.
The swearing in of the new cabinet took place in front of military council leader Field Marshal Hussein Tantawi, state TV said.
"The Supreme Council of the Armed Forces delegated presidential powers to Kamal al-Ganzouri according to the law, but not the armed forces and the judiciary," the official Mena news agency reported.
Earlier, the Muslim Brotherhood said its Freedom and Justice Party (FJP) has won a majority of run-off contests in the first round of Egypt's parliamentary election.
Official results are not due until Thursday, but the Islamist FJP said it had won 36 of the 56 seats awarded to individual candidates.
Voting in the remaining two-thirds of electoral districts is scheduled to take place later this month and in January 2012.
Twenty-four seats were contested by the FJP and the ultra-conservative Salafist al-Nour Party, which came in second place.
Many supporters of liberal and secular parties are concerned that Islamist parties will have too much power in the next parliament.
The parliament must select a 100-member panel to draft a new constitution that will be put to a referendum before a presidential election in June.
Egypt's military, which took over the running of the country after the fall of Mr Mubarak, has been accused of trying to safeguard its interests from civilian oversight and slowing down the transfer to civilian rule.