Israel expels Hamas MP from Jerusalem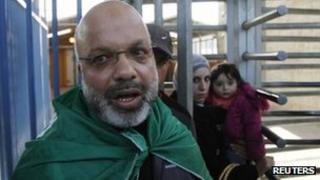 Israel has expelled a senior MP from the Palestinian Islamist group, Hamas, from Jerusalem on the grounds that he was living in the city illegally.
Ahmed Attoun, whose Israeli-issued permit to reside was revoked in 2006, was forcibly transferred to the Palestinian-controlled West Bank.
He was earlier released after spending 70 days inside an Israeli prison for living in Jerusalem without a permit.
East Jerusalem has been controlled by Israel since the 1967 Middle East war.
The city's status remains disputed, with Israel's occupation of East Jerusalem considered illegal under international law.
Israel is determined that Jerusalem be its undivided capital, while Palestinians are seeking to establish their capital in East Jerusalem.
'Ethnic cleansing'
Israeli police arrested Mr Attoun in September.
He was one of three Hamas members who had been staging a sit-in inside the offices of the International Committee of the Red Cross (ICRC) in East Jerusalem since July 2010 in order to avoid being expelled.
The other two men - former Palestinian Minister for Jerusalem Affairs Khaled Abu Arafah and MP Mohammed Totah - are still holed up inside the ICRC compound.
"This is one of the hardest moments of my life," Mr Attoun told journalists as he crossed the Qalandia checkpoint leading to Ramallah.
"We are the original residents of this country and the occupation is the one that should leave the country, not us," he added.
The ICRC urged the Israeli authorities to rescind the expulsion order.
It said that because East Jerusalem was occupied territory under international humanitarian law, Palestinians were protected by Article 4 of the Fourth Geneva Convention from being forcibly transferred.
The Palestinian Authority President, Mahmoud Abbas, has cited Mr Attoun's case as an example of Israel's "ethnic cleansing" of Jerusalem.
Hamas won a majority in the 2006 Palestinian Legislative Council elections and governs Gaza. It is designated a terrorist group by Israel.