Deadly bomb attacks on Shia pilgrims in Iraq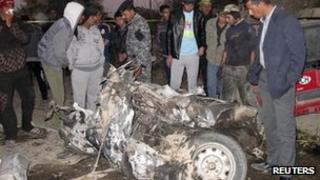 At least 30 people have been killed in a series of bomb attacks in central Iraq targeting Shia pilgrims marking the festival of Ashura, officials say.
In the deadliest attack, a car packed with explosives blew up as a procession of pilgrims passed through the al-Nil area, north of the city of Hilla.
Local police said 16 people were killed, including women and children.
Later, two separate attacks against groups of pilgrims in the capital, Baghdad, left at least 11 people dead.
Police and hospital sources said eight people were killed when a roadside bomb exploded near a convoy of pilgrims in the northern district of Urr, while the other three were killed in Mashtal, in the city's east.
The violence came a day before the climax of Ashura, when Shia Muslims commemorate the martyrdom of the Prophet Muhammad's grandson, Imam Hussein, in a 7th Century battle outside Karbala.
Ashura has witnessed serious sectarian violence since the US-led invasion of Iraq in 2003, with pilgrims often targeted by Sunni extremists.
However, this year is only the second that Iraqi forces have been in sole charge of security for the festival.
'Women's screams'
Witnesses in al-Nil said the car bomb had targeted the end of the religious procession. The explosion left pools of blood, as well as piles of shoes and clothes, on the street, they added.
"A powerful and horrible explosion went off behind us, smoke filled the area," Hadi al-Mamouri, one of those who was taking part in the procession, told the Reuters news agency.
"I could only hear the screams of women, and I could only see the bodies of women and children on the street."
Explosive devices were also detonated near groups of pilgrims in the centre of Hilla and in the town of Latifiya, to the north, leaving three people dead.
Correspondents say Monday's violence underscores Iraq's fragile security situation less than a month before the last 10,000 US troops in the country are to have withdrawn.
Almost two-hundred people were killed in November, but the Iraqi authorities insist they are capable of protecting their people.
Earlier, a Sunni Islamist militant group with links to the banned Baath Party of the late Saddam Hussein, Jaish al-Tariqa al-Nakshabandia, promised to continue attacks on Americans staying in Iraq as military trainers or security personnel.
"This existence of the American enemy... is nothing but a new form of occupation," a military spokesman for the group said in a video posted online. "We will continue our jihad and will target them wherever they were on Iraq's land and under any name, and we will strike with an iron fist."