Egypt elections: Low turnout for first round run-offs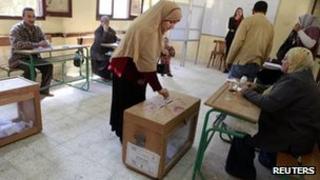 Egyptians have been voting in run-off polls resulting from the first round of parliamentary elections, with Islamist parties trying to extend their lead.
Turnout was said to be low in the nine governorates holding run-offs, where a total of 52 seats are being contested.
The Muslim Brotherhood's Freedom and Justice Party won 36.6% of the 9.7m ballots cast last week, followed by the Salafist al-Nour Party with 24.4%.
The elections are the first since the overthrow of President Hosni Mubarak.
Voting in the remaining two-thirds of electoral districts is scheduled to take place later this month and in January.
'Accept the result'
Under Egypt's complex electoral system, two-thirds of the 498 elected seats in the lower house of parliament, the People's Assembly, will be picked through proportional representation, using lists drawn up by parties and alliances.
The remaining seats are decided by a first-past-the-post-system, with individual candidates required to win more than 50% of the votes to avoid a run-off contest.
Only four seats were won outright in the first round, leaving 52 to be decided in run-offs on Monday and Tuesday. Twenty-four seats are being contested by the Freedom and Justice Party (FJP) and al-Nour.
Voting was reportedly slow in the capital Cairo, Alexandria and Port Said on Monday, in contrast to last week, when there were long queues outside polling stations.
The head of Egypt's election committee announced on Monday afternoon that it had lowered its turnout figure for the first round from 62% to 52%.
Abdel Moez Ibrahim said members of the committee's secretariat had made a counting error, adding that he "was very tired" when he gave initial figures at a news conference last week.
Later, an administrative court ruled that the results for one of four constituencies in Cairo were void.
Judges overseeing voting there left their posts to protest against conditions in polling stations, where 75 ballot boxes were damaged and 15 went missing.
On Sunday, the Muslim Brotherhood, which was banned from politics during Mr Mubarak's three-decade rule, urged its rivals not to contest last week's results.
"We all believe that our success as Egyptians toward democracy is a real success and we want everyone to accept this democratic system. This is the guarantee for stability," the FJP's deputy leader, Essam al-Erian, told the Associated Press.
The presidential candidate and former Arab League secretary general, Amr Moussa, also said the success of Islamist parties had to be accepted.
"You cannot have democracy and then amend or reject the results," he told the Reuters news agency, adding that the shape of parliament would not be clear until voting was over in January.
The secular Egyptian Bloc came third in the first round with 13.4% of the vote, followed by the liberal Wafd Party with 7.1% and the moderate Islamist Wasat Party with 4.3%. The Revolution Continues, a group formed by youth activists behind the uprising that ousted Mr Mubarak in February, won 3.5%.
The supporters of liberal and secular parties have expressed hopes that their candidates will do better in the next two rounds of the elections.
Many are concerned that Islamists will have too much power in the next parliament, which will select a 100-member panel to draft a new constitution that will be put to a referendum before a presidential election in June.
However, the FJP has said it has no plans to form any coalition with al-Nour, whose ultra-conservative supporters demand strict prohibitions against interest-bearing loans, alcohol, mixed bathing, "fornication", and the appointment of women and Christians to leadership roles.
The FJP has also repeatedly stressed its commitment to an inclusive democracy, and its charter says it strives for a "non-religious" state.