Hillary Clinton 'concerned over Israeli democracy'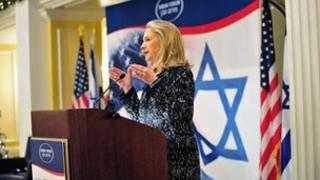 Israeli ministers have hit back at concern expressed by US Secretary of State Hillary Clinton that democracy is being eroded in the country.
She criticised recent attempts by the centre right-wing coalition to restrict donations to non-government organisations.
And she said attempts in some parts of Jerusalem to separate men and women on buses was "reminiscent of Rosa Parks".
Finance Minister Yuval Steinitz said she had "completely exaggerated".
"Israeli democracy is alive, liberal and breathing... I don't know many better democracies in the world," he was quoted by Haaretz newspaper as saying.
Female singers
Mrs Clinton made her comments in a closed session of the Saban Forum in Washington, attended by both Israeli and US decision-makers.
In front of an audience that included Deputy Prime Minister Dan Meridor and opposition leader Tzipi Livni, she made specific mention of legislation that proposes to limit funding to non-governmental organisations (NGOs), Israeli media reported.
She also expressed her shock at incidents pointing to a growing discrimination against Israeli women.
This included separate seating areas for women on some Jerusalem buses, which she compared with the 1950s era of Rosa Parks, the black American woman who refused to give up her bus seat for white passengers.
She said the case of some IDF soldiers who refused to remain for a performance by female singers was reminiscent of the situation in Iran.
Tzipi Livni welcomed Mrs Clinton's comments.
"Friends and admirers of Israel from within and without are worried about processes that Israel is undergoing," she said.
"This concern is coming from those who fight for us in the UN and against our detractors, and who act to preserve Israel's military advantage in the area."
Environmental Protection Minister Gilad Erdan said "elected offcials should concentrate on what is happening in their own countries." However he added that he shared her concern over the rights of women.