France withdraws embassy staff from Iran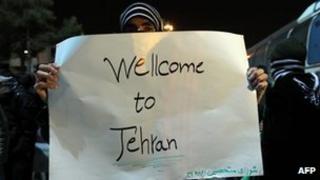 France is repatriating a number of diplomats and their families from Iran following an attack on the British embassy in Tehran.
French officials said the move was a temporary security measure.
Britain expelled 25 Iranian diplomats following Tuesday's attack, when hundreds stormed the British embassy.
British officials say the attack probably had the tacit support of Iran's leaders. All UK diplomatic staff in Tehran have been evacuated.
'Young revolutionaries'
On Saturday, a senior Iranian cleric condemned the attack.
"There is no doubt that Britain is one of the oldest enemies of Iran... but young revolutionaries should not go beyond the law," Grand Ayatollah Naser Makarem Shirazi told the state-run Irna news agency.
His comments came as the Iranian diplomats expelled from Britain arrived back in Tehran.
An unspecified number of French embassy staff are expected to begin returning to France as soon as Sunday.
The BBC's Hugh Schofield in Paris says that though France may not be as directly in the firing line of Iranian hostility as Britain, it is not far off.
In the EU, for example, Paris has led the calls for a ban on Iranian oil imports and a freeze on central bank assets, our correspondent adds.
Iranian media called on the West to avoid a deepening diplomatic crisis, saying it was an issue between Tehran and London alone.
As well as the UK, Germany, Italy and the Netherlands have all recalled their envoys following the attack.
"The British government is trying to extend to other European countries the problem between the two of us," foreign ministry spokesman Ramin Mehmanparast said.
The attack on the UK embassy came after Britain levied new sanctions on Iran, banning financial transactions with Iran's financial sector, including its central bank.
The EU has also tightened its Iran sanctions following a report by the UN's nuclear watchdog that said Iran had carried out tests "relevant to the development of a nuclear device".
Iran denies the accusations, saying its nuclear programme is solely for peaceful purposes.