Deadly clashes rock Yemen second city Taez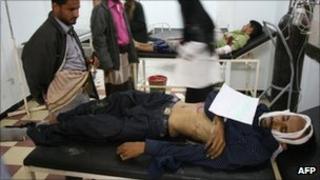 Yemeni troops have clashed with anti-government militias and tribal fighters in the country's second city, Taez.
Medical sources there told the BBC that seven people had been killed in the latest fighting, bringing the death toll to 30 since Thursday.
Taez has been a major centre of unrest during months of protests against President Abdullah Saleh.
Correspondents say the latest fighting threatens a power-transfer agreement signed by the veteran president.
Under the deal reached last month, President Saleh handed over to Vice-President Abdrabbuh Mansour Hadi in return for immunity from prosecution.
But BBC regional analyst Sebastian Usher says the agreement does not seem to have calmed the tensions in Taez.
Doctors in the city told the BBC three of those killed in the latest fighting were civilians - the others were soldiers and opposition fighters.
Large-scale government reinforcements are reported to be heading for Taez.
Although Mr Saleh is no longer formally in office, he has since made several announcements that have made many wonder if he believes he is still in power, our correspondent adds.
Mr Saleh came to power in 1978.
His security forces have cracked down violently on protests against his rule, which began in January.