US military hands former HQ Camp Victory to Iraqis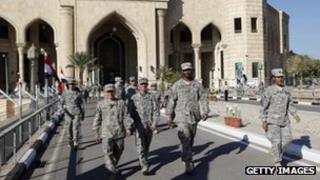 The former US military headquarters in Iraq has been handed over to the Iraqi authorities.
The base, Camp Victory, is in the grounds of a huge palace complex built by Saddam Hussein near Baghdad airport. He was later imprisoned there prior to his execution.
At its height, the site housed more than 40,000 military personnel.
Just five bases in Iraq remain to be handed over as the US prepares to withdraw by the end of the month.
As well as palaces for Saddam Hussein, the complex contained artificial lakes, islands and even a small zoo.
After the US-led invasion the American military operation in Iraq was run from the 62-room al-Faw palace. Senior generals lived in the 20-room al-Ez palace.
The area effectively became an American town with fast food chains, a bus service and a dirt speedway.
In addition to the US service personnel the base at one time housed more than 65,000 contractors.
Saddam's prison
After his capture Saddam Hussein was housed in a villa on an island within the complex. American troops interrogated and guarded the former leader until he was handed over to the Iraqi authorities and executed in 2006.
Camp Victory has hosted many US ceremonies over the past eight-and-a-half years, including one on Thursday at which Vice President Joe Biden thanked US and Iraqi troops for their sacrifices.
However a spokesman for the US forces, Colonel Barry Johnson, said there had been no formal handover for the base itself.
"There was no ceremony, just a signing of paperwork akin to the closing of a home sale," he said in a statement to the AFP news agency.
The top US commander in Iraq, General Lloyd Austin, has warned of a "turbulent" security situation as militant groups seek to take advantage of the departure of American forces.