Deadly car bomb kills 10 in Iraqi town of Khalis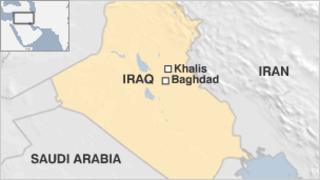 A car bomb has exploded in a market in the Iraqi town of Khalis, north of Baghdad, killing at least 10 people, security officials say.
At least 20 others were injured in the attack in the town, about 80km (50 miles) north of the capital.
A curfew was imposed after the incident, according to reports.
The attack comes amid concerns about the ability of Iraqi forces to maintain stability after remaining US troops leave at the end of the year.
A medic, Dr Firaz al-Dulaimi, told AFP news agency that two policemen were among the fatalities.
Violence in Iraq has fallen since its peak in 2006 and 2007, but more than 250 people were killed in October alone, according to official figures.