Is this house the key to seizing Gaddafi assets in the UK?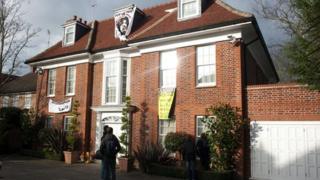 Seven Winnington Close may sound like any suburban address, but this house in London's Millionaire's Row may be the first Gaddafi family asset in the UK to be returned to the Libyan government - and could help Libyan lawyers reclaim others too.
In March the £10m ($16m) house was on the rental market for £9,750 ($15,000) per week, when a group of Libyan squatters moved in and began living there for nothing.
It has seven or eight bedrooms with luxury en suite bathrooms, an indoor swimming pool and a suede-lined cinema room, though one of the squatters, from a group called Topple the Tyrants, has said "even the jacuzzi stays turned off".
Long presumed to belong to Col Gaddafi's eldest son, Saif al-Islam - formerly a student at the LSE - the BBC has learned that in fact it belongs to his second son, Saadi.
The squatters say they will not leave until it is returned to the Libyan people. Whether that happens - and if so, when - is now in the hands of London's High Court.
Lawyers acting for the Libyan embassy asked the court this month for ownership to be transferred to the Libyan government. And they think their case is a strong one, thanks to some key information provided by British officials.
Formally the house is listed under the name Capitana Seas Limited, a company based in the British Virgin Islands, where secrecy laws would usually make it extremely difficult, if not impossible, to discover the real owner.
But once UN sanctions had been imposed on Libya, requiring the British government to freeze assets controlled by the Gaddafis in the UK, the British Treasury got the British Virgin Islands to reveal the beneficial owner of Capitana Seas.
"They [British Treasury] confirmed to us that the reason the company's assets in the UK are under sanctions is because the owner is Saadi Gaddafi," says Mohamed Shaban, the lawyer tasked with tracking down the Gaddafi family's assets in the UK.
"We can show that the benefit of this asset goes to Saadi Gaddafi - you can't get much stronger evidence than from the British Virgin Islands Companies House and HM Treasury. The court won't have a problem with that."
Mr Shaban says he is confident he can prove that Saadi Gaddafi, 38, acquired 7 Winnington Close illegally or through misappropriation of Libyan funds.
Saadi Gaddafi's job as a commander of Unit 48 in the Libyan Ministry of Defence would not have provided an income sufficient to buy the house, Mr Shaban says, nor would his brief career as a professional footballer in Italy's Serie A.
Nor has any big gift to him from his father been registered, as it would need to have been under Libyan law.
"This is certainly the first case that I'm aware of, where an asset is linked personally to one of the Gaddafi family, that is being pursued in the United Kingdom," says Mr Shaban.
He adds that the case is, in a way, a test case, because it should help the Libyan legal team gauge the level of evidence and argument needed by the High Court in any future attempts to claim back Gaddafi assets.
Master asset-hider
Mr Shaban already has other properties in his sights - in the salubrious Knightsbridge area of London - which he suspects belong to the Gaddafis.
"There are neighbours that have given us very strong information, eyewitness testimony that a particular very expensive property was regularly used by sons of Col Gaddafi over the years and they suspect it was Saif and Mutassim," he says.
Because Saif al-Islam Gaddafi is wanted by the International Criminal Court Mr Shaban has handed over the information to the ICC's financial crimes unit.
He also believes there are Gaddafi bank accounts in the UK but says these may be harder to pin down, because of the UK's Data Protection Act.
Robert Palmer of the anti-corruption watchdog Global Witness says years of living under sanctions turned Col Gaddafi into a master of asset-hiding.
"It's pretty simple to hide your identity behind offshore shell companies to disguise that you actually own or control something. You can create a web of different structures, associates, business people and intermediaries to hide your assets," says Mr Palmer.
"You have to be a pretty stupid dictator to put money in your own name nowadays," he says.
The current value of 7 Winnington Close remains at £10m, the price it was bought for in May 2009.
Glentree Estates, the leading estate agent in this exclusive part of Hampstead, north London, was not involved in the sale of the house but had been acting "on instructions from the owner".
The head of Glentree, Trevor Abrahmsohn, says he has had nothing to do with the house since March, when the company stopped looking for a tenant to rent it.
But he says he would be well placed to sell or rent it on behalf of the new Libyan government: "That would inject quite a lot of money into the much needed coffers of the new regime so they can get on with their lives and start planning their future."
He adds: "You would say that it has European charm and scale. It's not the first property I would expect a Middle Eastern purchaser to buy to be honest - 7,500 sq ft (696 sq m) is considered modest in scale for the area."
In March the former governor of Libya's central bank, Farhat Bengara, said Libya had around $168bn in frozen assets, connected with the Gaddafi regime.
Many of those were held by the Libyan Investment Authority (LIA) - a sovereign wealth fund set up by Saif al-Islam Gaddafi - which has shares in Juventus Football Club and Pearson, the parent company of Penguin and the Financial Times.
The new Libyan authorities have now taken control of the LIA.
In the UK, Mr Shaban is hopeful of gaining control of Gaddafi-owned properties, but is pessimistic about the prospects of repatriating the family's cash.
"For every item we can link to Gaddafi - like with 7 Winnington Close - there are others where they would have done their homework and there are companies, financiers, accountants and lawyers more than happy to hide things," he says.
"For some professionals this is their job - to hide ownership as far as possible so I am certain we will not get hold of all their assets."