Russia calls for end to 'ultimatums' against Syria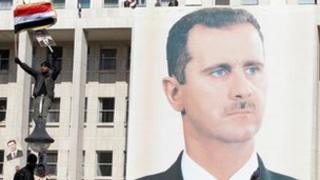 Russia has said Syria should not be issued with any more ultimatums, a day after the West called for more action against President Bashar al-Assad.
Russian Foreign Minister Sergei Lavrov said further attempts should be made to engage Damascus in political dialogue.
Meanwhile, Turkey has said it is considering imposing a buffer zone along its border to protect Syrians.
On Monday, a UN panel said Syrian forces were committing "crimes against humanity" in their crackdown.
The study by an independent panel, appointed by the Human Rights Council, said civilians - including children - had been murdered, tortured and sexually assaulted during the uprising against Mr Assad.
Warships
"Right now, the most important thing is to stop acting by means of ultimatums and try to move toward political dialogue," Mr Lavrov said.
Speaking in Moscow, he also criticised a possible arms embargo against Syria, suggesting it could prevent the government from gaining weapons but not its opponents.
"We know how that worked in Libya when the arms embargo only applied to the Libyan army, the opposition received weapons," Mr Lavrov told reporters.
Mr Lavrov said it was unfair to expect the Syrian government not to respond to the unrest. "For the most part, armed groups are provoking the authorities," he said.
Russia has resisted attempts by the US and Europe to draft a UN Security Council resolution condemning Mr Assad's crackdown. Syria is a significant purchaser of Russian arms.
State-run Russia Today reported on Monday that Moscow had deployed warships to its base on Syria's Mediterranean coast, in what appears to be a further show of support for the Assad government.
A navy spokesman however denied the move was connected to the crisis in Syria, Izvestia newspaper reports.
Mr Lavrov's comments come as pressure on the Syrian government mounts, with Turkey's foreign minister saying it was looking to create a buffer zone along its border with Syria, with international support.
In a TV interview, Ahmet Davutoglu said Turkey had no plans for a military intervention in Syria but that it was ready for any scenario.
"We hope that a military intervention will never be necessary. The Syrian regime has to find a way of making peace with its own people," he said.
France has suggested that Turkey should join a European Union foreign ministers' conference on the crisis in Syria later this week.
A UN Human Rights report released on Monday accused Syria of systematic human rights violations, including killing at least 253 children.
Denied entry to Syria itself, the UN investigators interviewed more than 200 victims, eyewitnesses, and army defectors.
The claims cannot be independently verified as most foreign media are banned from entering Syria.