Lebanese split over draft law on violence against women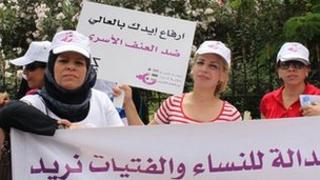 Lebanon's parliament is considering a bill that would make family violence, including rape within marriage, a criminal offence. But, as Caroline Anning reports from Beirut, it has run into fierce opposition from religious leaders and conservative politicians.
A mother of four with deep set, coffee-coloured eyes, Najwa endured more than a decade of abuse at the hands of her husband.
When he wasn't in prison for stealing cars, he used to beat her and their children using a range of tortures he had devised and named.
There was the "chicken", where he would tie their hands and feet together and beat them on the floor, or "the cross", where he'd tie them up as if on a crucifix and hit them with belts, chains - anything that came to hand.
Other times, he would simply beat her for hours against the tiled bathroom walls, before taking her into the bedroom and raping her.
"I was escaping a bad family life at home by marrying him, but I didn't know that I was going into a worse hell," she said.
When she tried to go to the authorities for help, she ran into a problem that countless other women in her position in Lebanon have experienced.
"I tried to go to the police and the sheikh, but everyone brushed me off," said Najwa, a Muslim who asked for her real name to be disguised because she is trying to build a new life.
"One time he had broken my arm and I had a note from the doctor saying I needed to stay in bed for eight months because my body was so badly injured, but the police just took notes and said they would process it. Three years later they still hadn't done anything," she said.
"Another time I went to the religious authorities and even though I was covered in scars, my husband told the sheikh he was sorry and wanted to change. So they said I should go back with him and try to make it work."
Conservative culture
Although Najwa's case is extreme, her experience with the police and religious leaders in Lebanon is not unusual.
Beneath a veneer of modernity and secularism lies a traditional and conservative country. As in most countries in the region, religious law largely governs marriage, divorce, child custody and inheritance.
"We have a culture here where it's considered embarrassing to take these things to court, especially because the police and the judiciary consider domestic violence a natural thing that happens within families", says Ghada Ibrahim, a lawyer who works on family violence cases.
If they do decide to go to court, the first port of call for domestic violence victims is usually the religious authorities. Each of the country's 18 religious sects has their own court, and things like marriage, divorce and child custody come under their jurisdiction.
"It's clear that they're not doing a good enough job in protecting victims of family violence," said Roula Abimourched, project coordinator at Kafa, an organisation that works to protect women and children.
There are no national statistics on domestic violence in Lebanon, but Ms Abimourched believes it is "widely underreported".
"We see about 400 cases a year just at our office here in Beirut, but there are many more who don't feel they are able to come forward," she said.
To try to encourage more people to seek help and ensure better treatment for victims, a new law has been drafted by a coalition of women's rights activists and lawyers that makes family violence, including rape within marriage, a criminal offence.
It has met stiff opposition from religious figures and conservative politicians.
Earlier this year Dar al-Fatwa, the Sunni Muslim governing body, released a statement describing the law as a "Western idea" that would "undermine the position of the man in his family".
The clerics are also concerned about their own position being undermined. Sheikh Khaldoun Oraymet, secretary general of the Higher Sharia Council in Lebanon, said the council could not countenance anything that "curbs our already extremely limited jurisdiction".
"We reject this law because we feel it's unnecessary and redundant in that Sharia already addresses these issues and ensures women's wellbeing," he said.
Sheikh Oraymet did admit that in terms of taking action, there was only so much the religious courts could do. Essentially, they can intervene to speak to the abuser, grant a divorce with alimony and give custody of the children.
'Terrified'
The new family violence law, by contrast, goes much further.
It would criminalise physical, mental, and sexual abuse and specify punishments for offenders, from fines to prison terms. A public prosecutor would be assigned in each of Lebanon's six provinces to receive complaints and investigate cases of violence.
Family violence units would be established within Lebanon's domestic police to process complaints. Healthcare centres would be required to report cases where they had treated women whom they thought had been abused.
Finally, the bill would allow a woman and her children to seek a restraining order against an alleged abuser.
The bill's detractors argue that all of this is unnecessary - that the religious courts and police are capable of protecting victims of abuse. Nicole, a devout Christian from north Lebanon and one of Mrs Ibrahim's clients, disagreed.
Her ex-husband was mentally ill and used to verbally and physically abuse her and their children, until it reached a point where she said it was impossible to stay with him.
She went to her religious authority, but was repeatedly told try to stay with her husband and make it work.
Eventually she was granted a divorce, but she is still fighting her ex-husband for custody of their youngest son.
"The children are all terrified of him - he knows where we live and he still threatens to kill us. He says he will kill me and then the kids," said Nicole, who also asked for her name to be changed out of fear that speaking to the media would prejudice her case.
"I am a pious woman, and when the religious courts wouldn't help us, when they wouldn't even help us get our things from our house, it was like a stab in my heart… I think the religious authorities are just for men," she said.
'Finding their voice'
The draft law is currently being considered by a parliamentary committee and according to Ghada Ibrahim, "there's a big tug of war going on" between women's rights activists and people opposed to the law, "but there seems to be a trend towards downgrading the law".
"They've removed the provision on marital rape, they want to leave the alimony up to the religious courts and they got rid of the specialised police, so this leaves the law empty," she said.
"All sects in Lebanon have their own courts when it comes to family, so I don't think any of them would wish to see their authority removed from them," Mrs Ibrahim said.
Even if the bill does pass, it will take longer to change society's attitudes to violence in the home.
Sheikh Oraymet blames Lebanon's long history of war and civil strife for domestic violence: "People lost their humanity, so they think it's OK to beat their wife or their child."
But according to Mrs Ibrahim, just opening a debate on the issue has helped. "I would say the number of people taking their case to court has quadrupled," she said. "Now we're seeing more boldness - women are finding their voice."