France says days of Syrian government are numbered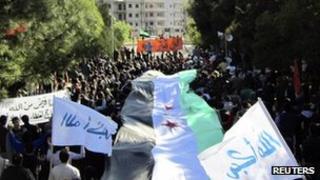 French Foreign Minister Alain Juppe has said time is running out for the Syrian leader after the Arab League agreed on sanctions against Damascus over its crackdown on pro-democracy protests.
The league approved unprecedented sanctions on Sunday, including an asset freeze and an embargo on investments.
In response, Syria described the move as a declaration of "economic war".
The UN says more than 3,500 people have died in the crackdown on protests which have been going since March.
The government of President Bashar al-Assad blames the violence on armed gangs and militants.
Meanwhile, violence continued on Sunday with Syrian activists saying at least 11 people had been killed across the country.
The flashpoint region of Homs saw at least six deaths in three separate incidents, the British-based Syrian Observatory for Human Rights said.
Reports from Syria are difficult to verify as foreign journalists are unable to move around the country freely.
Damascus' warning
Mr Juppe told French radio that the days of the Syrian government were "numbered" as it was "totally isolated".
"Things are going slowly unfortunately... but they are advancing since the Arab League, which carries considerable political weight, has just decided on some sanctions which will isolate the Syrian regime a bit more," Mr Juppe said.
Earlier this month, the Arab League suspended Syria, in a move denounced by Damascus as interference.
The league's sanctions came after Syria refused to allow 500 Arab League monitors into the country to assess the situation on the ground.
Syria, one of the founder members of the Arab League, condemned the sanctions as a betrayal of Arab solidarity.
The EU and the US already have sanctions in place against Syria.
Speaking at a news conference in Damascus on Monday, Syrian Foreign Minister Walid al-Moualem condemned the sanctions as a declaration of "economic war" and warned of repercussions for the Arab League.
He said that Damascus had already withdrawn 95% of the assets targeted by the league.
Mr Moualem also reiterated Damascus' position that armed gangs were behind the continuing violence, showing footage of bloodied and charred corpses of Syrian government soldiers.