Egypt's rival protests show divided opinions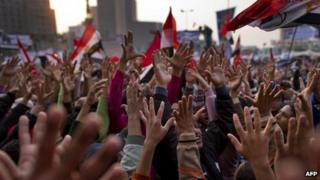 The vendors selling tea and toffee apples are again doing an excellent trade in Cairo's Tahrir Square, lending a festive atmosphere to this demonstration.
Today there is no tear gas and none of the deadly clashes with police that have frightened families away in recent days.
However, there is a sense of deep frustration that has set in among the crowds who have gathered for what they call "Last Chance Friday".
"Our basic concern is the continuation of military rule," says Karim Arafat. "Every single Egyptian that cares about the country wants to end this to kick-start freedom and more human rights."
The governing council of the armed forces has repeatedly insisted that parliamentary elections will begin as scheduled on Monday.
'Very dangerous'
Most protesters among the huge crowd are opposed but there is a lot of confusion about how to proceed.
"We thought that elections were the best way to get the military out fast but after the police brutality in the square, a lot of people are afraid to vote," says a student, Abdulrahman Amr.
However, he admits he will vote next week.
"I'm going, otherwise young people from the revolution will not get any support. The parliament will just be members of the former ruling National Democratic Party and the [Islamist] Muslim Brotherhood," he says.
Some argue just a short delay to the start of the election process could make a crucial difference.
"Security-wise, it is very dangerous at this time," says Dalia Yousef, a founding member of the new centrist Justice Party. "I would prefer waiting until a new prime minister and cabinet are in place. We can wait for two week or a week until things are settled down".
The choice of former prime minister Kamal al-Ganzouri, 78, to lead a new interim civilian government, following the resignation of the existing cabinet this week, has drawn a mixed response.
He was well-respected and popular when he was in office from 1996 to 1999, and was seen as untainted by corruption.
However, the revolutionary youth see his age as a factor against him. They believe he will have little sway over the military despite his protestations to the contrary.
"He's a very old guy and this is the revolution of young people," says Amr, an activist in his twenties.
"How can he make any change? Why didn't they have someone like [Nobel prize winner Mohamed] ElBaradei? Because he will ask for everything for the people. The military don't want that."
"We want someone totally pure who never worked before from the regime," says his friend. "You have to ask young people here in the square who they accept."
You only have to take a few steps away from Tahrir Square to find different voices, illustrating how public opinion in Egypt is split.
Rival protests
Yahya Abdul Mutallab runs a small shop selling ancient Egyptian artefacts and souvenirs. His business is suffering.
"The tourists are staying away from Egypt because they think it's not stable," he says.
He firmly believes that pressing ahead with elections will be the fastest way to ensure a transfer of power to an elected civilian government. "This is the best way to move on from military rule," he says.
"This election is really crucial. It should definitely go ahead, otherwise we will get stuck in Tahrir Square in a constant state of revolution," says another man, Hassan, who is on his way home to the eastern district of Heliopolis.
"The whole entire demonstration is just going on here on this side of the city but one metro stop away it's different," he adds. "Where I live, it's very quiet."
In another Cairo neighbourhood, close to the headquarters of the Supreme Council of the Armed Forces, thousands of Egyptians of all classes are joining another demonstration to rival the one in Tahrir Square.
"Down with Tahrir Square" and "Tahrir does not represent Egyptians" are slogans there as people show support for the election process.
A third protest at the al-Azhar mosque, Egypt's highest Sunni Muslim institution also has a large turnout.
It was organised weeks ago to call for Jerusalem's al-Aqsa mosque to be "saved" from Israeli control.
Members of the Muslim Brotherhood, Egypt's most powerful political force, were called to support the cause, as the group officially boycotted the rally in Tahrir Square. Its Freedom and Justice Party expects to do well in parliamentary elections and does not want them delayed.
"God willing, the election will take place and I hope the security will be considered in a sensible way so Egyptians can cast their vote in the first free election," says Ayman al-Ghayesh from the Brotherhood, standing in al-Azhar's courtyard.
However, he is sensitive to accusations that the organisation is being opportunist, and plans to head to Tahrir Square to join the mass rally.
"I said my noon prayers here and I will say my afternoon prayers there," he says.
"My mind and soul are in Tahrir. We must be careful not to be divided."