Yemen Red Cross aid workers freed unharmed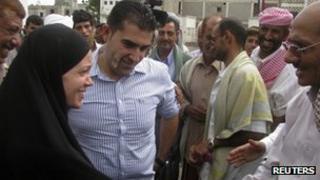 Three aid workers have been released after being held by armed insurgents for two days in southern Yemen.
The Frenchwoman and her two Yemeni colleagues were working for the International Committee of the Red Cross (ICRC).
They were abducted by insurgents from the Southern Movement in Lahej province on Tuesday.
The kidnappers had demanded the release of four prisoners held by the Yemeni authorities.
A local official said the insurgents had been assured that the four detainees would be released once the hostages were freed.
A spokesman for the Red Cross said that the three workers had now returned to their base in Aden.
Restive south
The aid workers were on their way to distribute food at a camp for displaced people who have fled from another southern province, Abyan, where the army is battling Islamist militants.
The Southern Movement is demanding greater autonomy for south Yemen, which was formerly an independent country with its capital at Aden.
Yemeni tribesmen have repeatedly kidnapped foreigners to use as a way of getting concessions from the government. More than 200 have been seized over the past 15 years, with most being released unharmed.
Earlier this month, three French aid workers were freed after being held for over five months in the east of the country.