Yemen leader 'to sign deal on ceding power'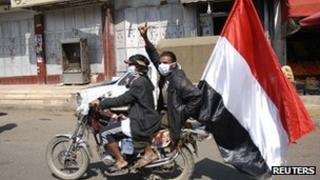 Yemeni President Ali Abdullah Saleh has arrived in the Saudi capital, Riyadh, to sign a deal under which he will step down, Yemen's state media say.
Under the agreement, brokered by Yemen's Gulf Arab neighbours, Mr Saleh, 69, is to transfer his powers to his deputy ahead of an early election.
The president has been facing protests since the beginning of the year.
He has come close to signing a deal several times in the past, only to pull out at the last minute.
Meanwhile, clashes broke out between pro-Saleh troops and gunmen loyal to dissident chief Sheikh Sadiq al-Ahmar in the Yemeni capital Sanaa.
No casualties were immediately reported in the fighting in the al-Hasaba district of the capital.
'Honorary president'
Yemen's state-run Saba news agency said that Mr Saleh arrived in Riyadh on Wednesday morning "to attend the signing of the Gulf initiative".
It did not specify when the deal was expected to be signed.
Mr Saleh's visit comes a day after the UN's envoy to Yemen, Jamal Benomar, said the power-transfer agreement had been approved by both the president and the opposition.
Under the deal, Mr Saleh would step down and hand over power to his deputy Abdrabuh Mansur Hadi in return for immunity from prosecution.
Mr Hadi is then expected to form a national unity government and also call for early presidential elections.
Some reports say that Mr Saleh will remain an honorary president for 90 days after the power handover.
Saba also reported that Mr Saleh had received a telephone call from UN Secretary General Ban Ki-moon, who thanked the president for "positively responding" to a plan aimed at dragging Yemen out of the protracted crisis.
'Armed conflict'
Mr Saleh returned to Yemen unexpectedly from Saudi Arabia in September, after surviving an attack on his compound in June.
The government crackdown has left hundreds dead and thousands wounded.
What began as peaceful protests against President Saleh - who has been in power since 1978 - has increasingly degenerated into armed conflict involving different tribes and militias.
Five or six provinces are no longer under government control.