Bahrain used excessive force during unrest - report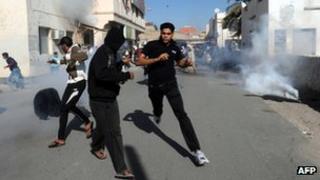 The Bahraini authorities used "excessive force" during a crackdown on protests earlier this year, an independent commission has said.
Presenting a much-awaited report into the events in February and March, the commission said a number of detained protesters had been tortured.
More than 40 people died in the unrest.
Responding to the criticism in the report, King Hamad vowed to do everything possible so "those painful events won't be repeated".
Bahrain has a majority Shia Muslim population and the violence has fuelled anger against the ruling Sunni royal family and political elite.
More than 1,600 people have been arrested during the protests, which have continued sporadically since the peak of the unrest eight months ago.
'No Iran link'
The summary of the 500-page report was presented by the Bahrain Independent Commission at King Hamad's palace in Manama on Wednesday.
The head of the commission, Professor Cherif Bassiouni said investigations carried out by the panel had found that Bahrain's security forces "used excessive force" in suppressing the unrest.
Many detainees were later subjected to "physical and psychological torture" and their basic human rights had been violated, he said.
Many inmates, he added, had been blindfolded, whipped, kicked, given electric shocks and threatened with rape to extract confessions.
Prof Cherif also urged the Bahraini authorities to compensate all those who had suffered mistreatment and to review sentences handed down.
He said there was no clear evidence linking Iran to the unrest as had been earlier suggested by some Bahraini officials.
And Prof Cherif stressed that it was a "unique and historic" event - the first time a state in the region had voluntarily and without international pressure investigated unrest in its own country.
Prof Cherif is a former UN human rights lawyer. The other commission members are all non-Bahrainis.
The inquiry interviewed more than 5,000 people, including hundreds who say they were tortured in prison.
'New page'
In response, King Hamad said that the authorities "will learn the lesson".
He promised to reform Bahrain's laws to make them compatible with international standards to protect freedom of speech and other basic rights.
"We do not want ever again to see civilians tried anywhere else but in ordinary courts. We do not want ever again to experience the murder of policemen and the persecution of their families for the work they do in protecting us all," King Hamad said.
The monarch also said the report opened "a new page" in Bahrain's history, promising to sack those officials who had abused their power.
He also stressed that he never again wanted to see Bahrain paralysed by what he called intimidation and sabotage.
If the king acts to change the way the country is run, then the outcome could be positive, the BBC's Rupert Wingfield-Hayes in Bahrain reports.
If not, then more violence is likely to lie ahead, our correspondent says.
In advance of the report's publication, the government of Bahrain acknowledged some failings.
"Regrettably, there have been instances of excessive force and mistreatment of detainees," it said in a statement on Monday.
A government spokesman, Sheikh Abdulaziz Alkhalifaa, told the BBC: "We are in a very polarised society".
"In order to move forward we need to find out the truth."
"I think the report will tell us exactly what happened since February and only then can we use this as a road map to bridge the divide between all communities here in the country," he said.