Iran: New Western nuclear sanctions 'in vain'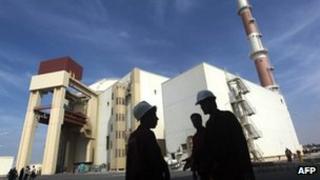 Iran has dismissed new Western sanctions imposed against it because of growing concerns about its nuclear programme.
A senior Iranian official said the sanctions would unite the Iranian people, would have no impact and would be "in vain".
On Monday, the US, UK and Canada announced new measures targeting Iran.
Russia has described the new sanctions as "unacceptable and against international law".
An Iranian Foreign Ministry spokesman, Ramin Mehmanparast, told a news conference in Tehran that the West's attempts to isolate Iran's economy would only serve to unite Iranians behind their government's nuclear programme.
"If our people feel that enemies want to deprive them of their rights by threatening, bullying and adopting illegal and irrational methods, they will pursue the path that they have taken, more united and more determined than ever," he said.
A UN report published two weeks ago gave the strongest evidence yet that Iran is seeking nuclear weapons, but Iran denies this.
Tehran insists its nuclear programme is solely for civilian purposes.
The report, by the UN's nuclear watchdog (IAEA), said Iran had carried out tests "relevant to the development of a nuclear device", but Iran was not referred to the UN Security Council because Russia and China were opposed to the move.
'Ratcheting-up of pressure'
The speaker of the Iranian parliament, Ali Larijani, said Iran would retaliate "tit-for-tat" and Iran's deputy oil minister, Abdolhossein Bayat, said the sanctions would not stop Iran exporting petrochemicals to the European Union.
Earlier, Russia condemned the sanctions, saying the action "seriously complicates moves for constructive dialogue with Tehran".
On Monday, the UK said it was cutting all ties with Iranian banks, while Canada said it was banning exports for the petrochemical, oil and gas industries.
US Secretary of State Hillary Clinton spoke of a "significant ratcheting-up of pressure" on Iran.
Iran's petrochemical industry, oil and gas industry and financial sector would be targeted by the new sanctions, the US said.
The US also named Iran a "primary money laundering concern".
President Barack Obama said in a written statement that the US had identified "the entire Iranian banking sector - including the Central Bank of Iran - as a threat to governments or financial institutions that do business with Iranian banks".
British Chancellor George Osborne said that all UK credit and financial institutions had to cease trading with Iran's banks from Monday afternoon.
The UN Security Council has already passed four rounds of sanctions against Iran for refusing to halt uranium enrichment.
Highly enriched uranium can be processed into nuclear weapons.
The US had already sanctioned dozens of Iranian government agencies, officials and businesses over the nuclear programme.