Will Bahrain's crackdown report heal divided nation?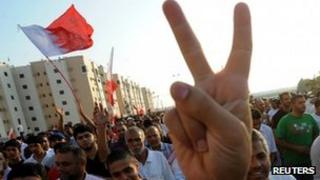 "Instances of excessive force… mistreatment of detainees... all those responsible for abuses will be held accountable".
These are not, for once, the words of human rights campaigners nor those of Bahrain's mostly Shia opposition.
Instead, these are the words of Bahrain's own cabinet in an extraordinarily frank and almost humble statement issued on Monday ahead of the landmark human rights report due out on Wednesday.
The cabinet statement said that 20 prosecutions against officers involved in abuses had been initiated, adding that "this is in no way the limit of the steps that will be taken" and "there will be no impunity".
It went on to talk of the government needing to "appraise its performance, learn from our mistakes and to enact reforms".
It is a bold statement likely to be greeted with suspicion by Shia opponents and derision by Sunni hardliners who want few if any concessions made to the Shia majority in this troubled island state.
But it is a sign that the government is aware of the enormous damage done to its reputation by allegations of widespread human rights abuses this year.
Shia-Sunni divide
After four months of research, more than 8,000 lodged complaints, over 5,000 face-to-face interviews, one postponement and a fair degree of controversy, the Bahrain Independent Commission of Inquiry (Bici) is about to deliver its landmark verdict on the country's much-criticised human rights record.
Its task is to determine if this year's unrest and the government's response to it has broken international human rights laws.
The Bici will hand over its report to the King and publish it simultaneously.
It could make extremely uncomfortable reading for some - the government stands accused of systematic torture, detentions without trial and deaths in police custody.
Human Rights Watch describes the situation in Bahrain as "dire", saying that 43 deaths have been documented in the crackdown on protests, mostly civilians, and more than 1,600 people have been arrested.
Some will, doubtless, dismiss the Bici report as being biased, but it could well determine the next phase of the Arab Uprising in this tiny but strategically important Gulf state.
Since the wave of Arab street protests reached Bahrain in February, dozens of people - mostly protesters - have been killed in the ensuing violence and hundreds injured.
The kingdom, which previously prided itself on being a model of peaceful co-existence between its religious communities and having a welcoming business environment, has found itself sharply and dangerously polarised between Sunni and Shia.
As a broad generalisation, the restless Shia majority feels marginalised and victimised by the Sunni-led government, while many in the sizable Sunni minority view Shia protesters as "traitors" bent on ushering in an Islamic republic sympathetic to Hezbollah and Iran.
Protesters deny this, saying they just want equal rights.
The large expatriate community, mostly from South Asia and making up 20% of the population, have little or no sympathy for the protesters who often accuse them of stealing their jobs.
Today, there is little middle ground left between Bahrain's Sunnis and Shias, and throughout this year efforts to restart talks between the ruling family and the Shia opposition on political reform and power sharing have been overshadowed by tales of appalling human rights abuses, some exaggerated, some true, committed in the interrogation cells of Bahrain's numerous police stations.
Hospital controversy
Which is why this commission of inquiry is important.
If Bahrain is to ever dig itself out of one of the darkest phases in its history it will need to ensure that where abuses are proven to have taken place those responsible are held accountable and that they are prevented from recurring.
So just how independent is the Bici?
The fact that it was appointed in June by royal decree by the monarch, King Hamad, and funded by his court, has already condemned it in many people's eyes.
Suspicions were heightened in August when a rumour went round - since denied - that the commission intended to clear the government of "systematic abuse".
This is a key point for the government which admitted to me in October that abuses had taken place but said they were not systematic.
Human rights campaigners believe they were systematic, and will be reading the coming report closely for any signs of a whitewash.
On its website, the Bici states that "the commission is wholly independent from the Bahraini government and will be responsible for hiring its own staff".
It is headed by five non-Bahrainis, chaired by the former UN human rights lawyer, Professor Cherif Bassiouni.
The commissioners, who include Prof Sir Nigel Rodley, from Britain, have extensive experience investigating alleged war crimes in Iraq, Rwanda and the Balkans.
They say they have been given full access to government officials and files, that they have been able to meet witnesses in secret, and are being allowed to make any recommendations the commission sees fit.
The Bici has certainly had its work cut out for it.
Some of the worst violence occurred during the first months of trouble in March and April.
Bahrain's security forces were ill-prepared for the mass protests that converged on a traffic junction on the edge of Manama - called Pearl Roundabout. It soon became a tent city and which got dubbed "Pearl Square" by reporters fresh from Cairo's Tahrir Square.
Bahrain's riot police, which include imported personnel from Yemen, Jordan and Pakistan, reacted with what many observers have called "disproportionate violence", firing into the crowd in actions that appalled even members of the ruling family.
Huge controversy surrounds what took place at the main public hospital, Salmaniya Medical Complex (SMC), with the government and its supporters saying it got taken over by Shia protesters and turned into a political protest camp, even a base for what they call a failed coup attempt to overthrow the ruling al-Khalifa family.
But opposition activists, backed by human rights groups, say the SMC was the scene of widespread abuses by the security forces, who - they say - tortured wounded protesters and arrested medics trying to care for them.
Two camps
The Bici's verdict on what took place in the hospital will have a decisive effect on how its report plays out in the country. It is unlikely to appease both sides.
Allegations of human rights abuses continued in Bahrain long after the imposition of a 12-week state of emergency (officially termed "a state of security") in March.
At least four protesters have died in police custody.
In April, we personally saw the body of one villager who died this way just days after giving himself up; his back had been lashed so badly it resembled a zebra's striped hide.
Bahrain's Minister for Human Rights, Fatima Al-Balushi, later assured me that the matter had been investigated and the police officers in charge removed from their posts.
In numerous meetings with Bahraini officials and royals this year, I have come away with the strong impression that the government establishment is divided into two camps when it comes to human rights abuse allegations.
On the one hand, there are those who, while still critical of the protesters, are deeply embarrassed, all too aware of how the allegations have sullied Bahrain's international reputation, and this includes the king who ordered the inquiry himself.
On the other hand sits a hardcore faction who consider the protesters to be low-grade terrorists who, given half a chance, would constitute an existential threat to Bahrain's whole way of life.
Bahrainis, who have always enjoyed a reputation for easygoing moderation, have become sharply polarised, and recent actions by protesters -such as spreading oil on roads to disrupt traffic - are doing nothing to endear them to a large part of the population that does not share their cause.
Burning effigy
In Monday's cabinet statement, the government accused some protesters of being "extremists… engaged in reckless provocation". It said the police had suffered four deaths and 846 injuries as well as innumerable threats to their families.
So what are people hoping for from the Bici report?
One look at a video filmed last week of Shia villagers in Ekr tells you "not very much" in their particular case.
In an echo of similar protests that occur nightly in Shia villages, they set fire to an effigy of King Hamad, chanting slogans for his downfall, next they burned a placard representing the Bici report and cursed its chairman.
Shias I have spoken to fear the report will end up putting the blame equally on both sides, effectively exonerating the government.
But the sheer volume of cases examined hints that this report is likely to be hard-hitting in both its condemnation and its recommendations.
What matters now is how the government reacts, not so much in word but in deed.
Will abusive security officials be permanently removed from their posts or just shuffled quietly sideways until the spotlight moves off them?
Will whatever changes and promises the government makes in the wake of this report be followed through in practice in the interrogation rooms and law courts?
Ultimately, will the government's critics, which include most of the Shia villages and suburbs that ring the capital, be convinced that Bahrain is serious about respecting human rights?
And, say Sunnis, will the Shia opposition do their bit by getting protesters to respect the rule of law?