Bahrain admits using 'excessive force' during protests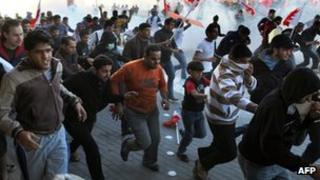 "Excessive force" was used by security forces in Bahrain against pro-democracy protesters earlier this year, the government has said.
At least 24 people died during Shia-led protests last February and March.
The government was commenting ahead of the publication of a report into the crackdown, commissioned by King Hamad.
Bahrain's information affairs authority said 20 members of the security forces had been charged over the alleged abuses.
It said the inquiry found there had been "instances of excessive force and mistreatment of detainees" during the crackdown.
The statement from the government was welcomed by Mansoor al-Jamri, editor of al-Wasat, the only independent newspaper in Bahrain.
"These are small steps in the right direction," he told the BBC, adding that the government needed to be seen to respond positively to the report. "It wants to say to the outside world we have taken action."
But he cautioned: "The system is still there and we can only encourage the government to start the long march away from the despotic and repressive regime that is still very much in place."
Maryam al-Khawaja, a human rights activist, told the BBC she was sceptical about the prosecution of policemen for excessive use of force.
"It is our experience that the government says it will take action but in the end nothing is done and the perpetrators are released without charge," she said.
She adds that because of international criticism the government wants to be seen to be moving forward: "This is their exit strategy but it won't work unless there is real change on the ground."
Medics retrial
Unrest in the tiny island state began on 14 February, led by the majority Shia Muslims protesting about economic hardship, the lack of political freedom and discrimination in jobs in favour of the governing Sunni Muslim majority.
A clampdown began on 16 March, with a state of emergency imposed and the arrival of hundreds of Saudi and UAE soldiers to beef up security.
Hospitals were sealed off and medics were beaten as they tried to help the wounded in the streets. The UN described the crackdown as "shocking and illegal".
King Hamad lifted the state of emergency on 1 June, but hundreds of people have been arrested since February and dozens have been handed lengthy jail terms, with at least five people sentenced to death.
Last month, Bahraini authorities ordered a retrial for 20 medics after they were given jail sentences of up to 15 years, sparking an international outcry.