Turkish Muslim pilgrims' bus 'shot at in Syria'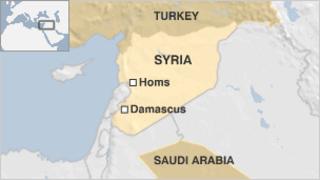 A bus, part of a convoy carrying Turkish pilgrims, has come under gun attack in central Syria, Turkish media and officials say.
At least two people, one of them a bus driver, were injured in the attack near the flashpoint city of Homs, they say.
The passengers, who had attended the annual Muslim pilgrimage to Mecca, later arrived back in Turkey.
Private news agency Dogan showed images of the vehicle with one of its side windows broken.
"We confirm that an attack took place in Syria," a foreign ministry official told AFP news agency, without giving any further information, but reiterated Turkey's warning to its citizens not to visit Syria.
Another driver, Erhan Surmeli, said the bus had been carrying 25 butchers back to Turkey from Saudi Arabia following the festival of Eid al-Adha, or the feast of sacrifice, which starts after the Hajj (pilgrimage).
"We had stopped at a checkpoint," he told the Associated Press news agency by telephone.
"Syrian soldiers emerged from behind sandbags and cursed [Turkish Prime Minister] Recep Tayyip Erdogan when we told them we were Turks. Then they suddenly opened fire at the bus."
Tensions have been running high between Syria and Turkey as Ankara has become increasingly vocal in its criticism of President Bashar al-Assad's crackdown on anti-government protests in his country.