Foreign Secretary William Hague to meet Syrian rebels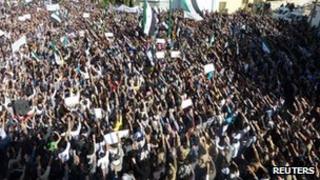 Foreign Secretary William Hague is to meet Syrian rebel leaders in London on Monday, the Foreign Office says.
Mr Hague will meet members of the Syrian National Council and the National Co-ordination Committee for Democratic Change.
The meeting comes as Syria's President Bashar Assad comes under increasing pressure from world leaders.
Many Syrians have risen up against President Assad as part of the so-called Arab spring.
The Syrian rebel leaders will also meet the Prime Minister David Cameron's advisers in Downing Street.
On Friday Damascus conditionally accepted an Arab League peace and monitoring plan designed to stop the violence seen in many Syrian cities, a diplomatic source told the BBC.
The Assad regime has been accused of killing 3,500 people who were demonstrating against his government.
More killed
Opposition activists say another 12 people were killed in another day of violence.
The Arab League suspended Syria earlier this week and Jordan's King Abdullah urged President Assad to resign.
Mr Hague had appointed Frances Guy, a former British ambassador to Beirut, to make contact with the exiled Syrian opposition.
"We have been having regular contacts with a variety of figures in the Syrian opposition for several months. We are now intensifying these," said a Foreign Office spokeswoman.
The Syrian authorities blame the recent violence on armed gangs but this has not been verified independently, as most foreign media are banned from entering the country.