Syria: France's Alain Juppe urges 'stronger' sanctions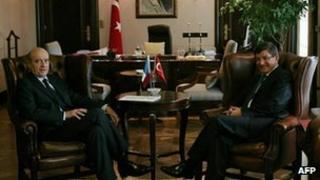 France says sanctions against Syrian President Bashar al-Assad's government must be strengthened.
Speaking after talks in Turkey, Foreign Minister Alain Juppe said the United Nations Security Council had to act.
His Turkish counterpart, Ahmed Davutoglu, said it was time to escalate the pressure to stop the "massacre".
Russia and China, which hold a veto at the UN, have refused to condemn Syria. At least 3,5000 people have been killed since protests began, the UN says.
Germany, France and the UK have tabled a UN resolution calling for an end to human rights violations in Syria and urging Damascus to implement an Arab League plan to end the violence. The draft was also backed by four Arab countries.
But with the Security Council divided, the resolution has been tabled in the human rights committee of the General Assembly, where there are no vetoes.
On Wednesday the Arab League - which has suspended Syria - gave Damascus three days to end "bloody repression" and allow in teams of international monitors.
It has threatened Syria with sanctions if it does not co-operate.
"The situation is no longer sustainable," Mr Juppe told reporters during his visit to Ankara.
"We have called on [President] Assad to change but the regime did not want to know, which is not acceptable. We are ready to strengthen the sanctions."
He said France believed Syria "was not willing to implement a reform programme and now it is too late".
And he added: "I hope those blocking any resolution will be aware of the reality of the situation."
China said on Thursday it was "highly concerned" by the rising violence.
The Arab League plan, drawn up earlier this month, calls on Syria to withdraw tanks from restive cities, cease its attacks on protesters and engage in dialogue with the opposition within two weeks.
President Assad agreed to the plan, but failed to honour it.
More than 370 people have been killed since then, say rights groups, in what appears to be the bloodiest month in the eight-month uprising.
The UN says more than 3,500 people have died since protests started in March. Syrian authorities blame the violence on armed gangs and militants.

Syria's anti-government protests, inspired by events in Tunisia and Egypt, first erupted in mid-March after the arrest of a group of teenagers who spray-painted a revolutionary slogan on a wall. The protests soon spread, and the UN says 3,500 people have died in the turmoil - mainly protestors but also members of Syria's security forces - while thousands more have been injured.
Although the arrest of the teenagers in the southern city of Deraa first prompted people to take to the streets, unrest has since spread to other areas, including Hama, Homs, Latakia, Jisr al-Shughour and Baniyas. Demonstrators are demanding greater freedom, an end to corruption, and, increasingly, the ousting of President Bashar al-Assad.
The government has responded to the protests with overwhelming military force, sending tanks and troops into towns and cities. Amateur video footage shows tanks and snipers firing on unarmed protesters. There may have been an armed element to the uprising from its early days and army deserters have formed the Free Syrian Army.
Some of the bloodiest events have taken place in the northern town of Jisr al-Shughour. In early June, officials claimed 120 security personnel were killed by armed gangs, however protesters said the dead were shot by troops for refusing to kill demonstrators. As the military moved to take control of the town, thousands fled to neighbouring Turkey, taking refuge in camps.
Although the major cities of Damascus and Aleppo have seen pockets of unrest and some protests, it has not been widespread - due partly to a heavy security presence. There have been rallies in the capital - one with an enormous Syrian flag - in support of President Assad, who still receives the backing of many in Syria's middle class, business elite and minority groups.
The Assad family has been in power for 40 years, with Bashar al-Assad inheriting office in 2000. The president has opened up the economy, but has continued to jail critics and control the media. He is from the minority Alawite sect - an offshoot of Shia Islam - but the country's 20 million people are mainly Sunni. The biggest protests have been in Sunni-majority areas.
The uprising has cost 3,500 lives, according to the UN and Jordan's King Abdullah says that President Assad should now step down. The Arab League has suspended Syria's membership and voted for sanctions. The EU has frozen the assets of Syrian officials, placed an arms embargo on Syria and banned imports of its oil. But fears remain of Syria collapsing into civil war.
BACK
{current} of {total}
NEXT