Egypt lifts election ban on Mubarak-era party members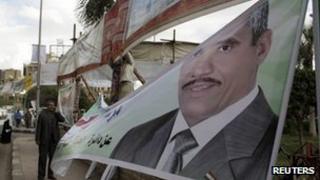 An Egyptian court has said members of ousted President Hosni Mubarak's now-dissolved ruling party can run in upcoming parliamentary elections.
The ruling overturns that of a lower court which had banned former members of the National Democratic Party (NDP).
Many have joined other parties or registered to run as independents.
Beginning in late November, Egypt is holding its free election in decades after Mr Mubarak was overthrown in February in a popular uprising.
The decision by Egypt's Higher Administrative Court in Cairo to overturn Friday's ruling by a court in the northern Nile Delta city of Mansoura was expected.
But Friday's ruling set off a number of similar lawsuits across Egypt aimed at preventing former NDP members from standing in the elections.
Activists have been fighting to ensure that those they see as associated with Mr Mubarak's 30-year rule are kept out of politics.
Mr Mubarak and many of his former senior officials are currently on trial or in jail on corruption charges.
The vote, beginning on 28 November, is to elect an assembly which will appoint a committee to write a new constitution.
Former NDP members have argued that they should not be barred from Egypt's post-revolutionary political process.