Syria defiant over Arab League suspension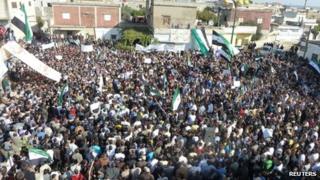 Syrian Foreign Minister Walid al-Muallem has reacted defiantly to the Arab League's suspension of Syria over its crackdown on protesters.
He denounced the move as a "dangerous step" and said it was an illegitimate decision prompted by US incitement.
He said Syria would not budge from what he called its strong positions, adding that all "plots" against it would fail.
The Arab League voted on Saturday to suspend Syria's membership over its repression of months of protests.
It is set to hold another meeting to discuss Syria on Wednesday.
At a televised news conference, Mr Muallem said: "Today there is a crisis in Syria which pays the price of its strong positions. Syria will not budge and will emerge stronger... and plots against Syria will fail."
He also apologised for attacks by Assad loyalists on foreign embassies in Damascus.
"It is important... that this does not repeat itself. The protection of the embassies is part of our responsibilities. For this reason, I apologise for what happened," Mr Muallem told a news conference in the Syrian capital.
Crowds attacked the embassies of France, Qatar, Saudi Arabia and Turkey on Saturday. Qatar and Saudi Arabia were among the countries that voted to suspend Syria from the Arab League.
Mr Muallem also played down the prospect of any Western military intervention in Syria.
"Syria is not Libya. The Libyan scenario will not be repeated; what is happening in Syria is different from what happened in Libya and the Syrian people should not worry," he said.
When the UN Security Council voted earlier this year to approve military action against Libya, China and Russia abstained.
More sanctions
Mr Muallem's statement came as European foreign ministers gathered in Brussels to discuss tightening sanctions against Syria, on which a preliminary deal has been reached.
The sanctions are set to target more individuals associated with the crackdown and to prevent Syria getting funds from the European Investment Bank.
French Foreign Minister Alain Juppe has said it was time to look at increased protection for Syria's civilians and urged the UN Security Council to take a stand.
"Today the time has come to see how we can better protect the population. I hope the Security Council too will finally take a position," Mr Juppe said.
The UN says more than 3,500 people have died since the start of the protests in March while the Syrian authorities blame the violence on terrorists.